Day 25
It's Christmas day.  Okay it may be a little premature for the Mother Land but the Guys in the Antipodes are already up and at it. Hope you have enjoyed the run into Christmas.  The best thing tonight is the shops are closed so you can't spend any more money and if you forgot something there is nothing you can do about it but you will manage.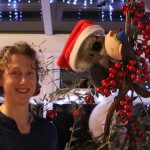 Smith Towers have taken on staff to help with the workload.  Full risk assessment has been carried out.  This did, however involve a glass, or two of Foundry Man's Gold and the inevitability, like the Shepherds on Day 11 the more we both drank the better things looked.  There maybe trouble ahead.
The current Mrs Smith and I would like to wish you all a very Merry Christmas.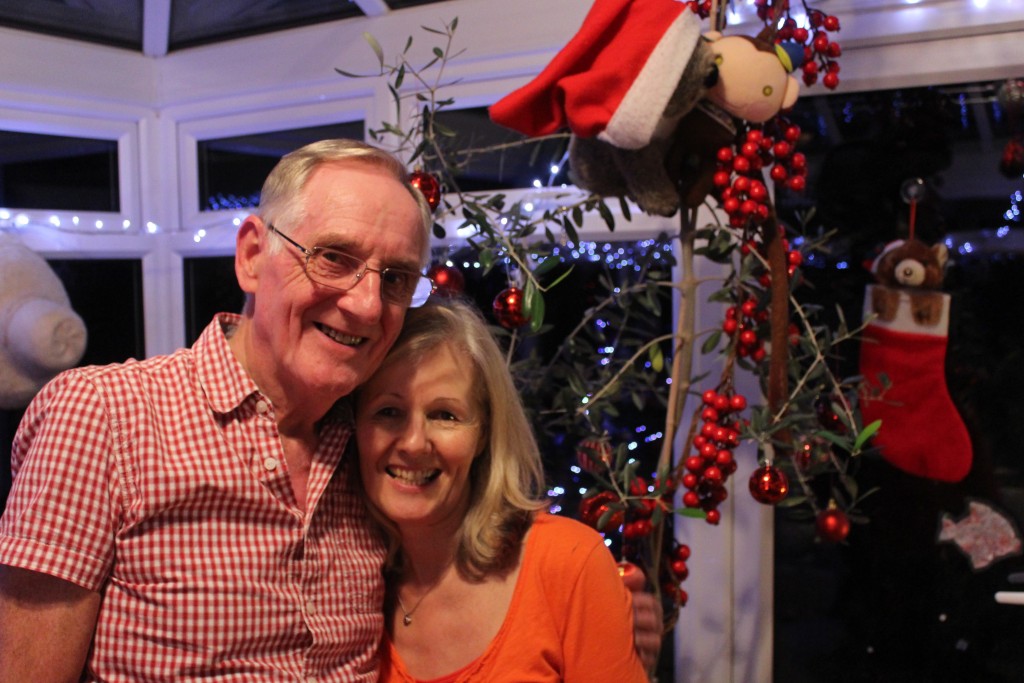 Day 24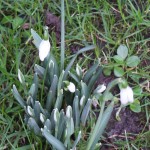 It's BONKERS!  Winter Solstice and temperatures in double figures.  Snowdrops at Christmas I can cope with but never before have we had summer blooms in December. Pelargoniums should all be having extended Duvet Days not swaying in the breeze at Smith Towers. Broad Beans where they should be in March, they will not survive any January cold snap.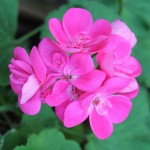 Is it Global Warming? Or is this what nature will do to us at this latitude?  The Golf-stream, El Nino, they can all be blamed or is it those Pesky E U Bureaucrats having the last laugh?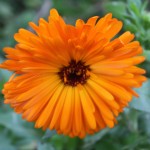 Now if you lived in Cornwall you might expect a bit of mild Atlantic weather, so our gift from Sancreed earlier this year is a happy little chap.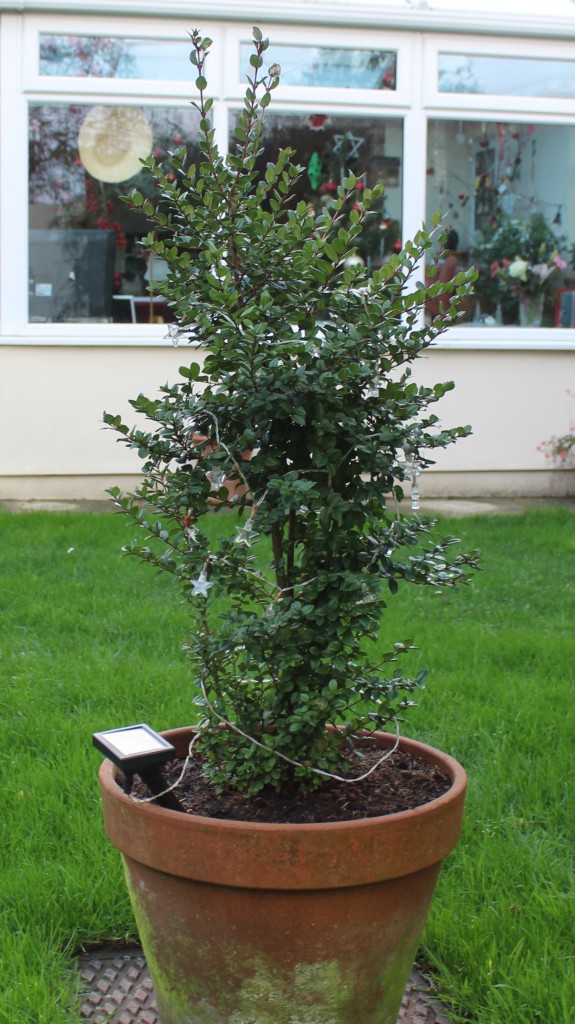 Myrtle the symbol for love and no better message for Christmas Eve.
Might be time for a glass of mulled wine?  Remind me, why would you put spices in a glass of Châteauneuf-du-Pape? Don't let George know us pensioners can afford quality.🍷
Day 23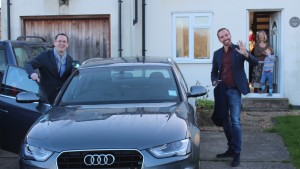 Christmas is a wonderful family time but can also be lonely for many. There are arrivals, which brighten us followed by departures but thats life. Smith Towers has already had a Pre-Christmas Christmas with the early arrival of two special family members and today they left for another much loved family, north of the border.  I'm sure the Plenderleith's will enjoy their company as much as we did.  We feel truly blessed.
Someones departure is another's arrival👍
Day 22
Today Christmas is on Hold.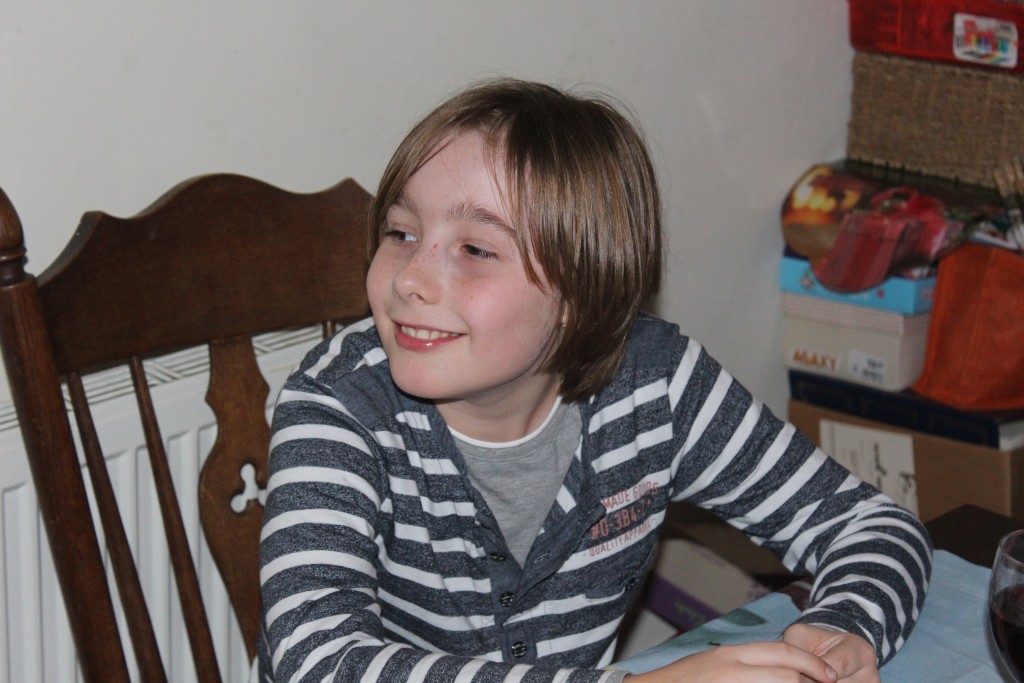 It's Fred's 10th Birthday and what a lovely day.  Lots of fun with Fred and the little ones, plus a Louise and Nigel Paella.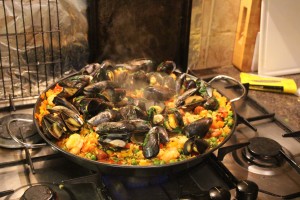 Happy Birthday Freds you are just awesome.
Day 21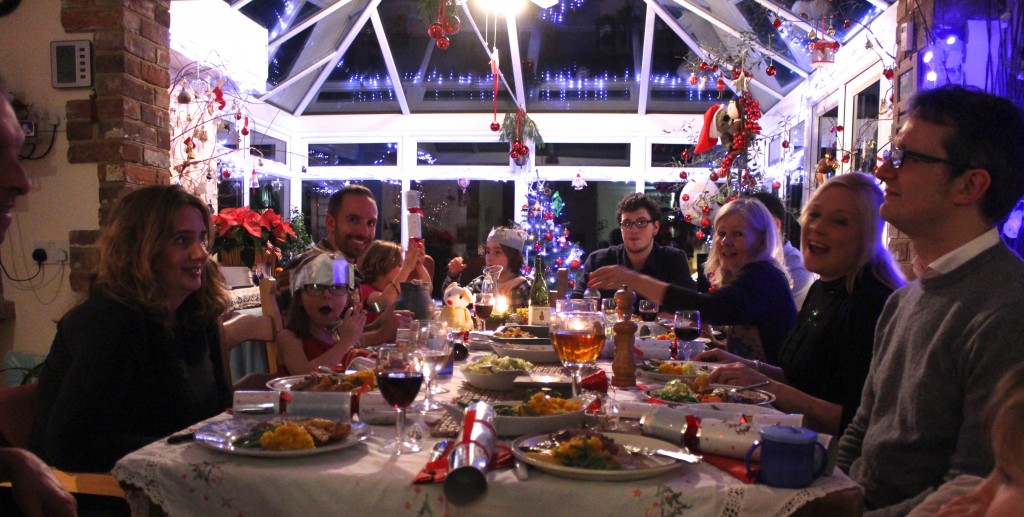 There was a table of plenty at the Smith Towers Pre-Christmas Extravaganza.  It's amazing what you can get with a Take-Away theses days.
Day 20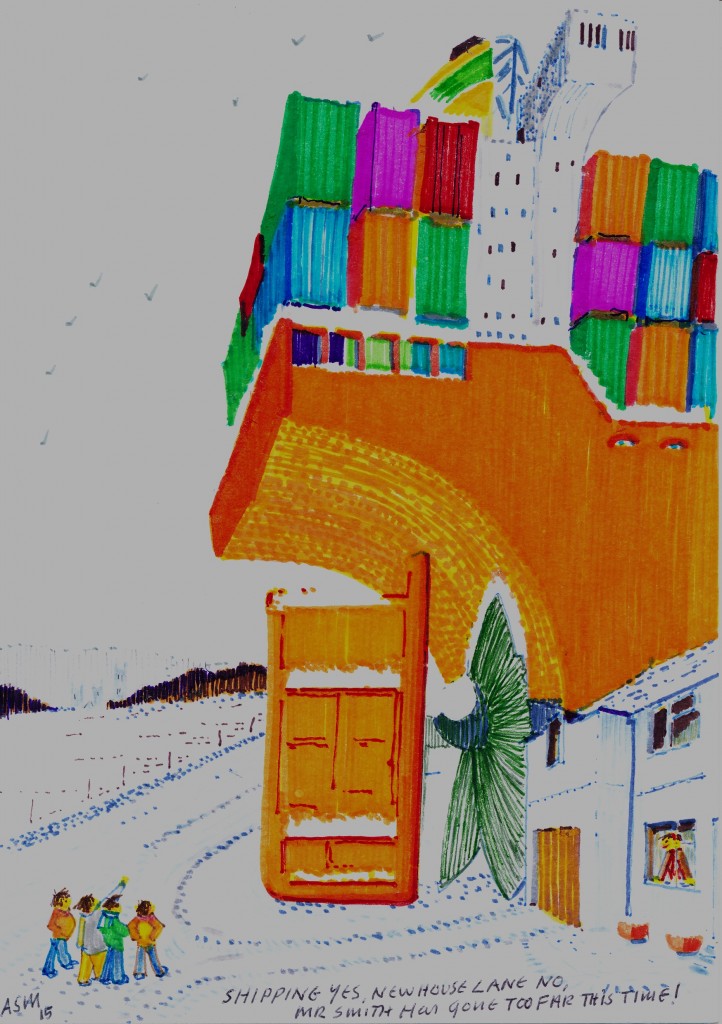 It's not often that a person is identified by his character through a cartoon but today a young man from Cornwall did exactly that, which identified someone.  Does anyone know who it is?  If you need a clue walk the Hilltop area and you will find the property, but don't be disappointed if you can't find the ship.  The olive tree you might just find if you look hard enough, or is it a Christmas Tree?  Only the artist knows. 🎨 Thank you Mr Marsh, keeper of the Miller.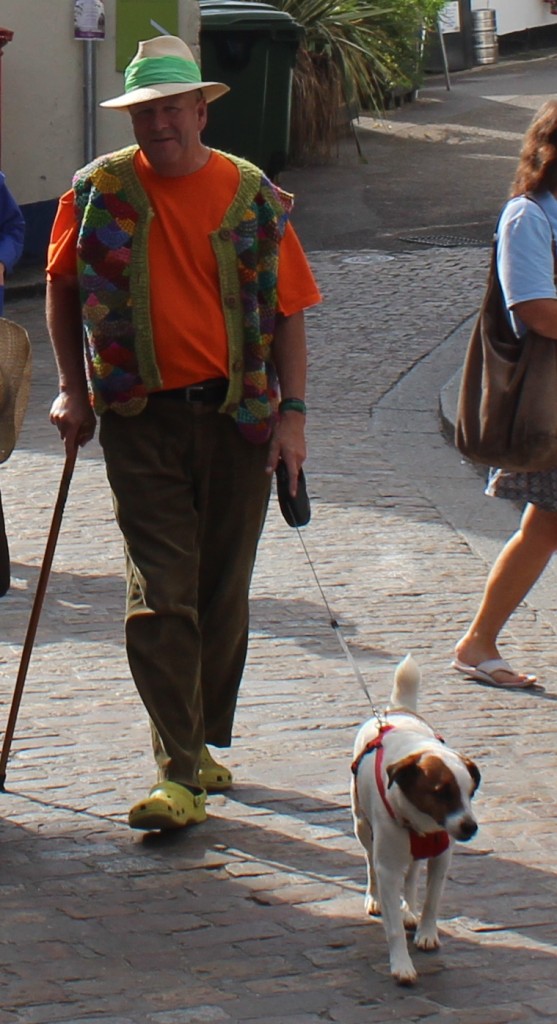 Your Obedient Servant – Colonel Hot Custard.
Day 19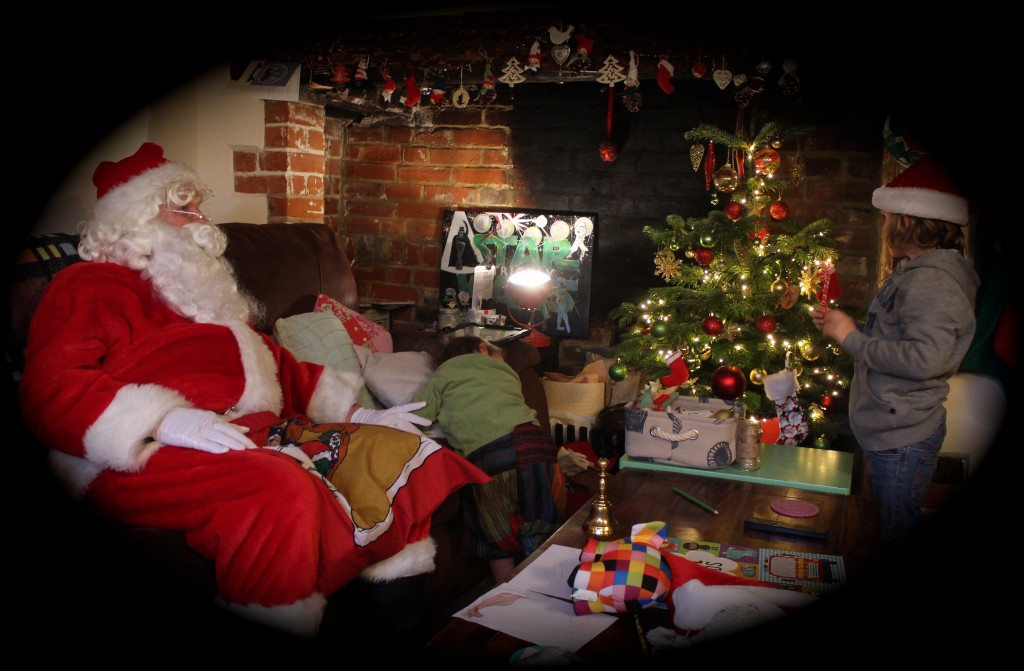 There are two little boys that live in a little cottage that is all decorated for Christmas.  When people passed-by they looked in and thought it was magical and the little boys looked very happy and exited.  One day before Christmas they had a special visitor, a man in a red suit, I wonder who he could have been? One little boy who liked to chat told the man in the red suit what he wanted for Christmas and the list was long. The smaller of the two decided it was time to check-out the cushion.
Day 18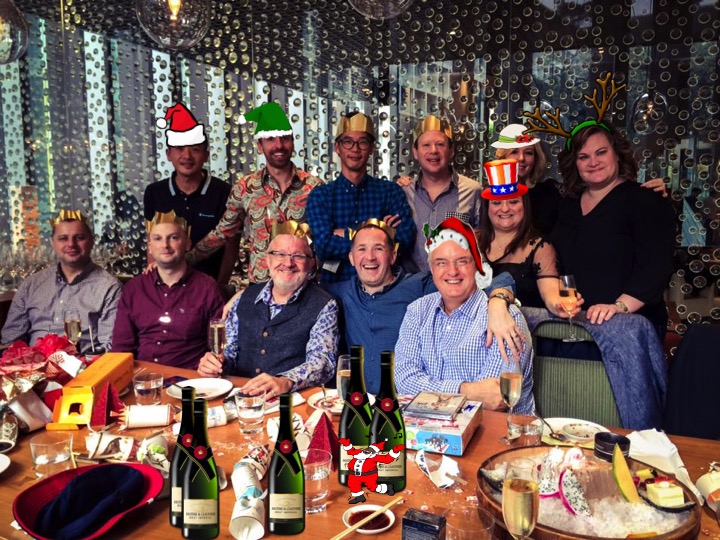 There's a group of people in Hong Kong that love a good party and Christmas is a time of plenty.  In the Christmas story there were three wisemen but in Hong Kong there were six.  Just like London buses you wait a couple of thousand years then six come along all at once. Others in the group were not so wise and decided to wear silly hats.  One wiseman, who had flown in from London liked a drop or two of Champagne as did another who was from Lanarkshire but he thought there wasn't enough. He was good with figures and kept counting the bottles but got confused when they appeared to be moving. Someone said "lets play find the Santa" but they  never found him. Can you?
One lady was more serious as she didn't want a potential President to get the wrong idea of the world outside the US of A so chose her hat very carefully. Nobody wants to be TRUMPED🇺🇸
Day 17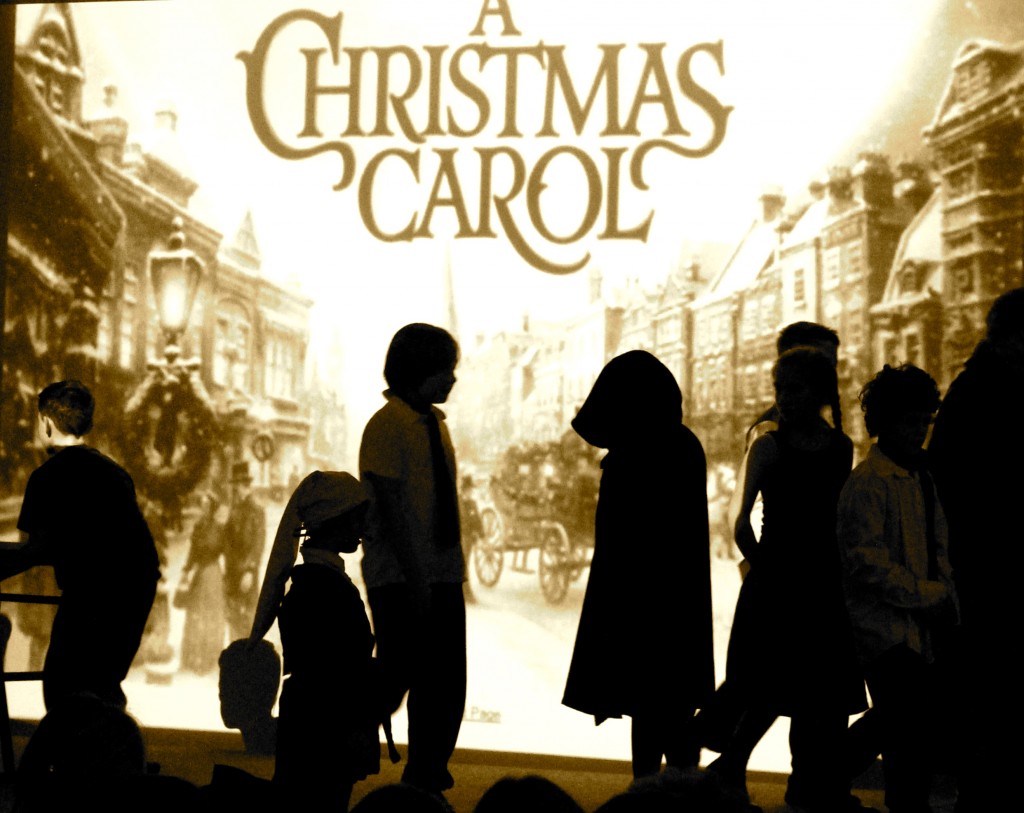 St. Stephens Junior School, Canterbury went all Dickensian this week with an extravaganza of A Christmas Carol.  It was truly wonderful and much praise should go to teachers and pupils alike.  You don't always get humour with Dickens but this had it in bucket loads. Well done to everyone involved.
Day 16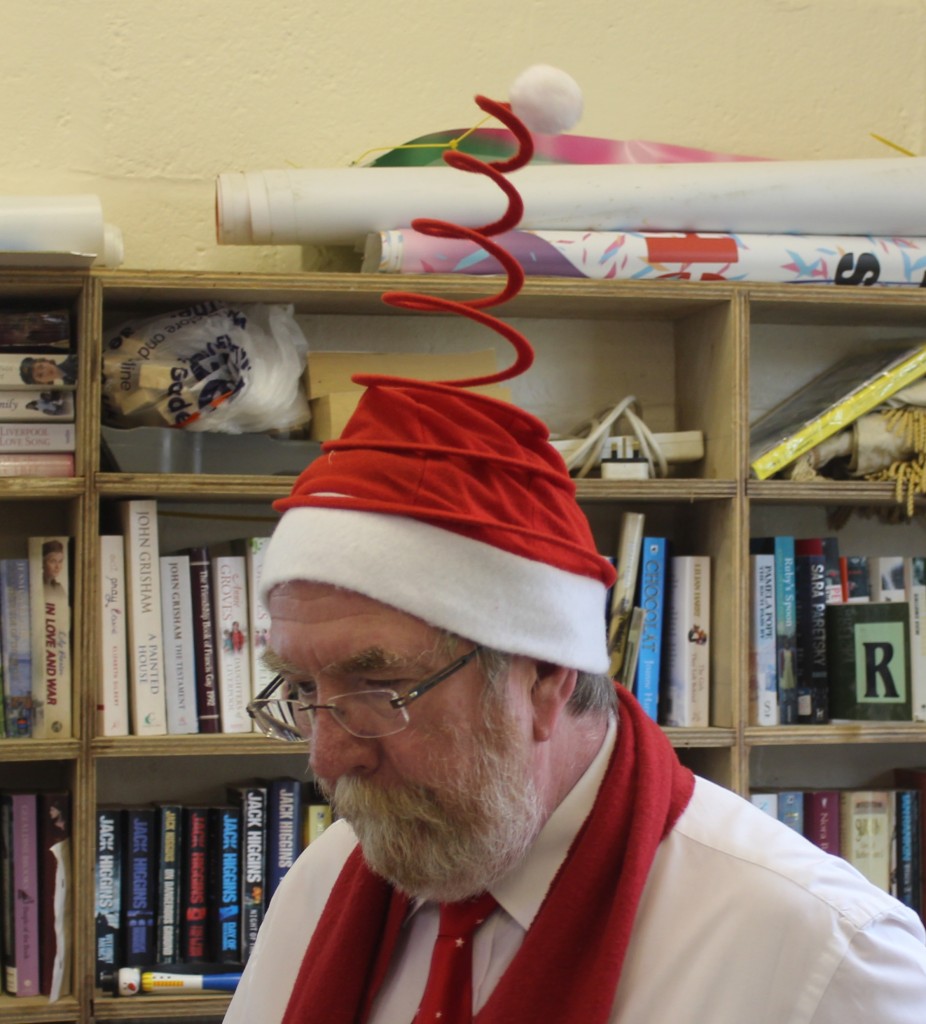 With Major Tim now comfortably ensconced in the space station the media has taken its eye off the ball and missed one of Santa's little Elves, Dave making contact with the local villagers. There was a question, whether the hat was hi-tech or not. Zebedee thought he was just taking the mickey.
Day 15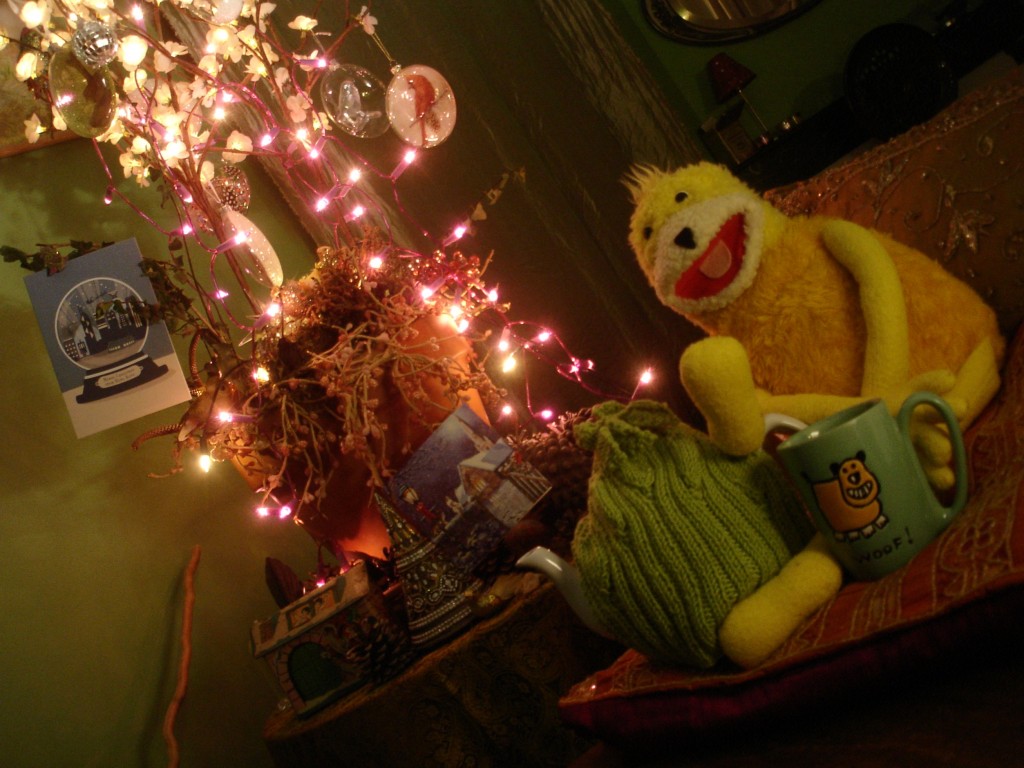 France in the recent elections nearly lurched to the far right but in the second round of voting the good people balanced the result.  However in Ripane Du Lot although Christmas is well on the way and under some control it appears to be listing heavily to the left.  This has pleased President Hollande because as President he sometimes has to toggle between left and right, he even has to be nice to that Mr Cameron some times but is more comfortable when navigating to port.  Being a socialist he likes red as it's a left colour and the colour of French fermented grapes.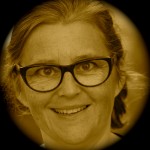 The question remains had the photographer had too much of the fermented grape, or had she turned à gauche
Vive la france.
Day 14
It's official we now have a Stollen.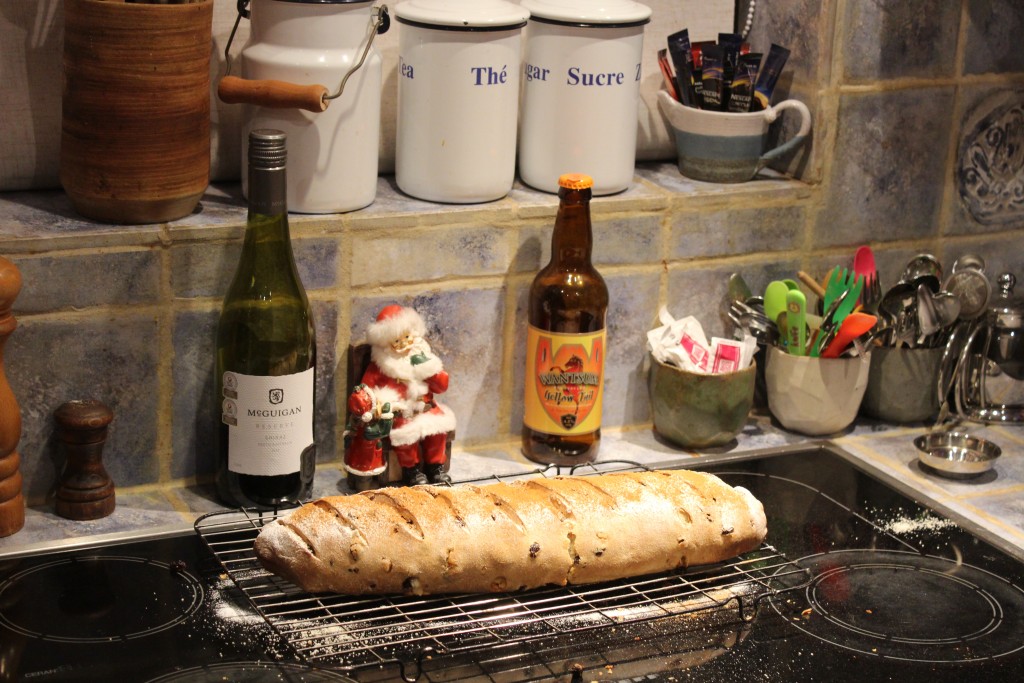 Day 13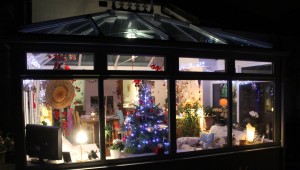 Smith Towers have had a busy week and been playing catch-up with the decorations. Today they are complete, including the current Mrs Smith's branch,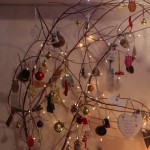 which changes through the various festivals.  Bring on the celebrations.
Today is a Christmas Bake-in, Stollen, Mouse Pies and perhaps a glass of some Christmas cheer. Yum Yum.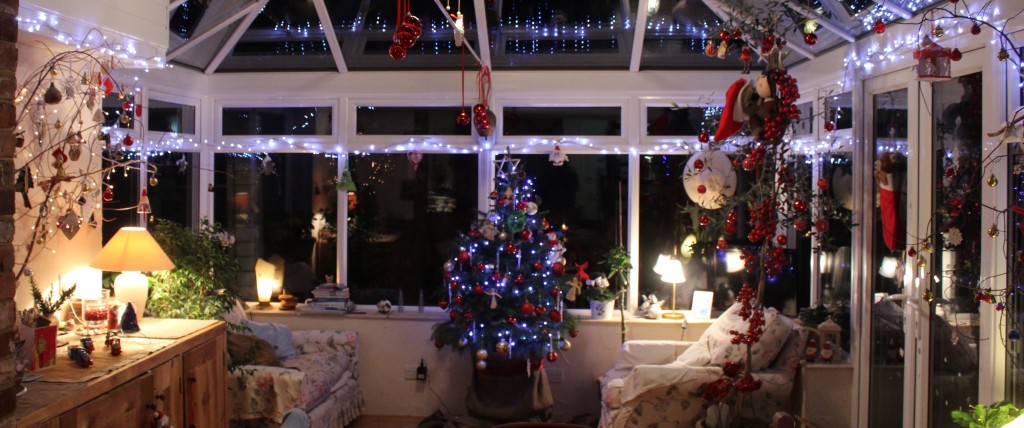 Day 12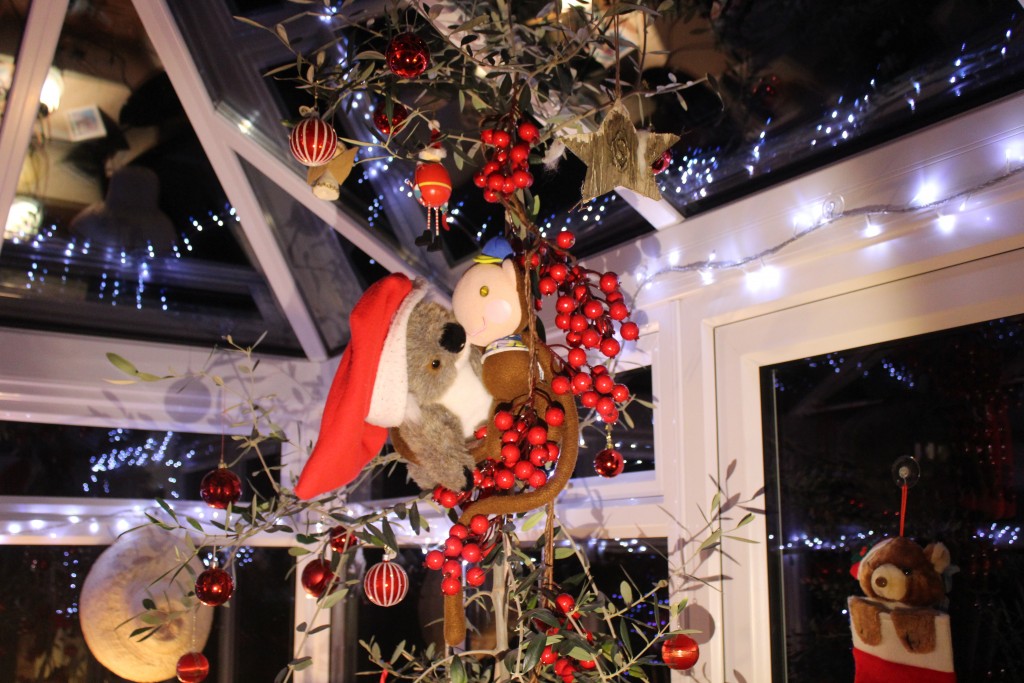 Harley had enjoyed his winter in a Galvin Girl garden in the Adelaide suburb of Belair but as spring sprung he was frustrated by the dramatic temperature changes, sometimes in the high thirties and then dropping to the low teens. Having had his 2014 Christmas at Smith Towers in the Mother Land (thats Thanington Without, Canterbury) he decided he would like to repeat the experience.  He flew out of Adelaide on a Cathy Pacific flight with a Hong Kong stopover.  The pilot, was a tall handsome chap, who was known to the Galvin Girls, suggested while in Honkers he visited the Big Budder on Lantau Island.  He took the Ngong Ping 360 Cable Car and thought it was better than being up a Gum Tree and enjoyed the view.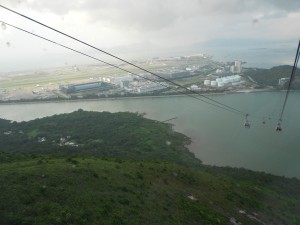 On arrival at the Ngong Ping Village he visited the Monkey Theatre and made friends with a little chap who was bored as all the tourist had gone home and felt left on the shelf.  Harley being a softy said come with me the children at Smith Towers will love you and give you a special Christmas and so it was they made themselves at home up an olive tree.  Harley thought this is a bit of Déjà vu.
Day 11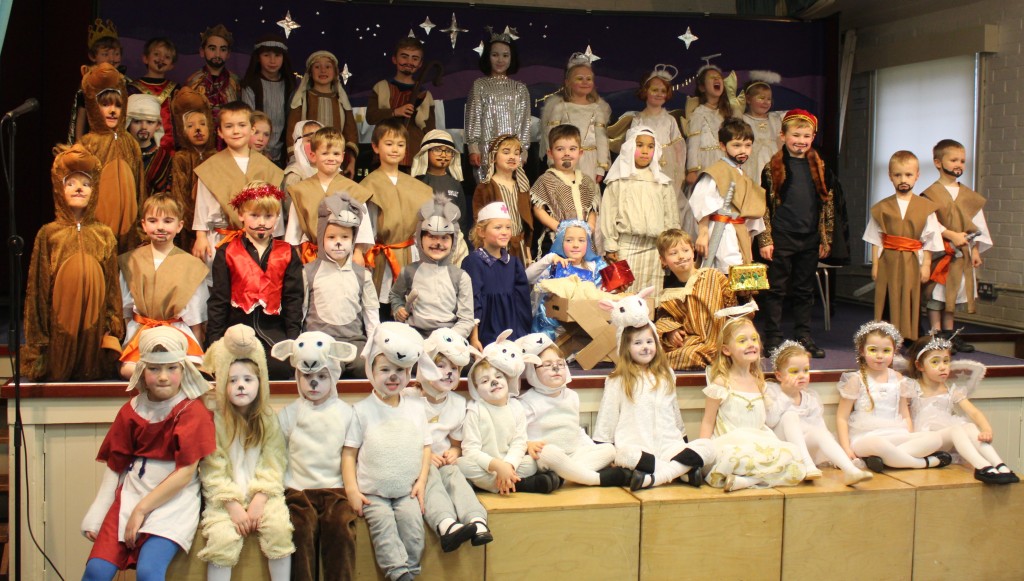 There has been a Midwife Crisis in Wickhambreaux.  The local Midwife received a call that a special baby was about to be born. Unfortunately no address was given so where to find the baby became a major problem.  The Midwife new the Shepherds were aware there was something significant about to happen but when she asked them if they could help they said they were too busy. In fact according to our Wickhambreaux Reporter they were busy in the Inn, a place, apparently with no room. Shepherds being down to earth folk were misguided to believe that the more Shepard Neame they consumed the better shepherds they would become.  The Midwife on the other hand had targets to meet but because she didn't listen to anyone missed the birth and became a Government statistic.  Fortunately Wickhambreaux as a close community rallied round and mother and baby are doing well.  Wickhambreaux  being a little remote (out in the sticks) wished to record the event in the tradition of the bard and re-enacted this momentous event enlisting the help of the school, with a cast of, quite a lot.  Bless you and a big well done Wickhambreaux C.E.P School.
Day 10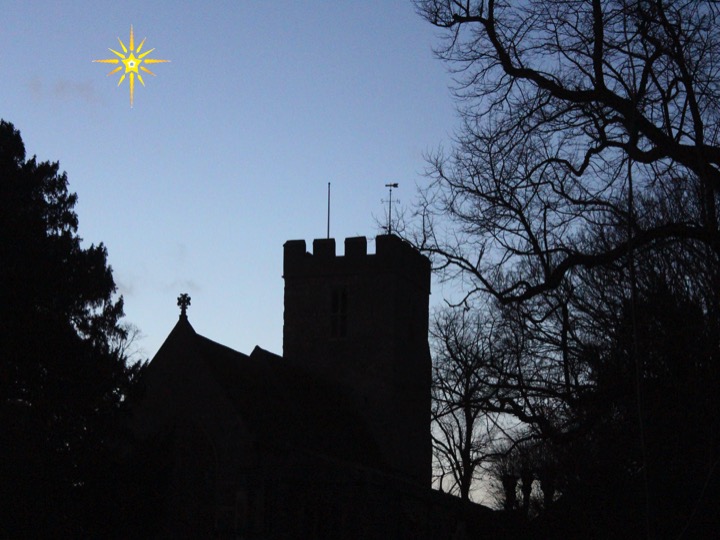 Shepherds in Wickhambreaux have reported seeing a large star over the Church and reckoned it must be significant.  Having just left the Rose Inn,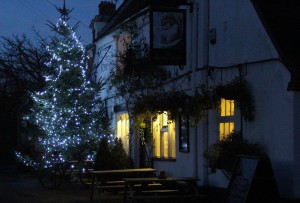 and perhaps one too many Spitfires, they began to doubt their judgement so being true country folk went back in for another pint.  Our Wickhambreaux reporter will investigate and report back on this sighting.  If there are any other sightings please report GPS coordinates so we can track it.
Day 9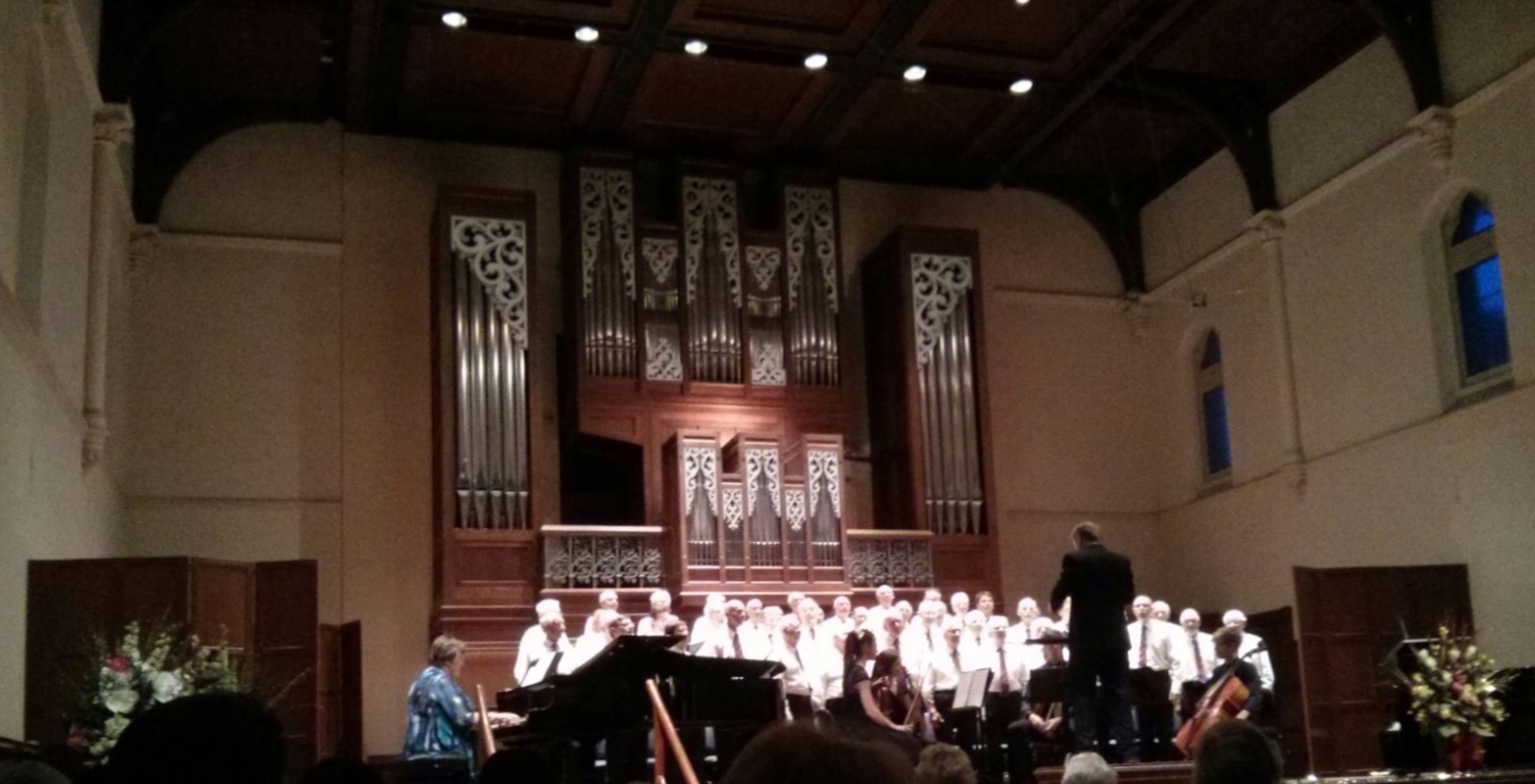 There are stirrings down below as we approach Christmas.  Over the weekend there was a Christmas celebration concert given by the Metropolitan Male Choir of South Australia, conducted by their Musical Director, Evan Patton.  It was held in the Adelaide Universities, Elder Conservatorium of Music, Elder Hall.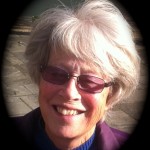 The Allourlives Antipodean Arts Correspondent attended the event and reported it was lovely.  It just proves that Allourlives will spare no expense to report on the arts. Our Arts Correspondent is also our South Australian Wine Expert, Food Critic and Travel Expert. She can direct you, entertain you and wine and dine you. An important lady to know.  May have to revise the salary?
Day 8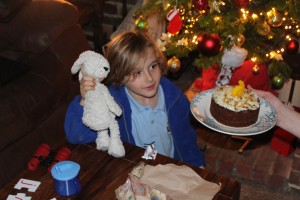 December is special for birthdays and yesterday was no exception as Jules friend Lapin was six.  Jules decided he would not buy a chocolate cake for him, which he would have preferred.  Instead he bought a carrot cake.  What else would you buy a French Rabbit?
Day 7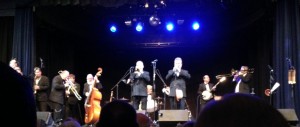 What's Christmas without a concert?  Saturday evening, Leas Cliff Hall and "The Big Chris Barber Band" Chris is now 85 and still blowing, sadly his colleague Pat Halcox is no longer with us, but he was everywhere in the music.  It was a step back in time, with a grey and blue-rinse audience. The current Mrs Smith being the exception, It must be the cappuccino's that keep her looking so young. Some of the Gang of 56 will fondly remember the Lease Cliff Hall, which today is much as it was in the sixties.  The foyer has been up-graded but it was an evening of nostalgia both for the concert but equally the venue.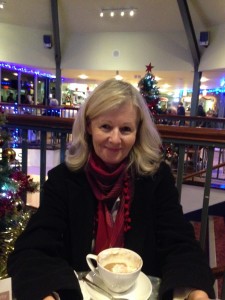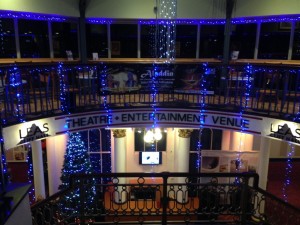 Day 6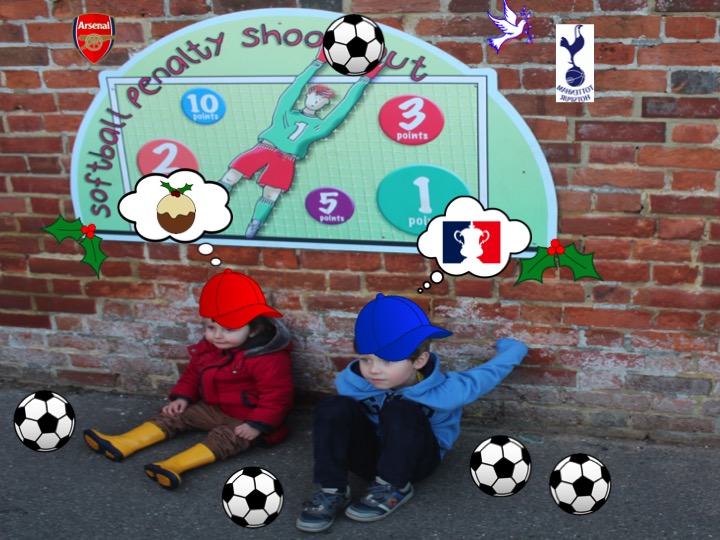 Looking forward to the Christmas fixtures and the pressure of the potential 9 points it got all too much for the two goalkeepers from the youth teams of Arsenal and Tottenham Hotspur, who decided to take five. Rivalry between Arsenal and Tottenham is legendary but Arsène Wenger the Gooners Manager being a nice guy released a peace dove, which flew straight to the Lilywhites.  There were just too many footballs around for any goalkeeper and the Gooners Goalkeeper true to form every time he saw a football thought of Christmas Pud. The Lilywhite being more desperate thought of trophies.
Day 5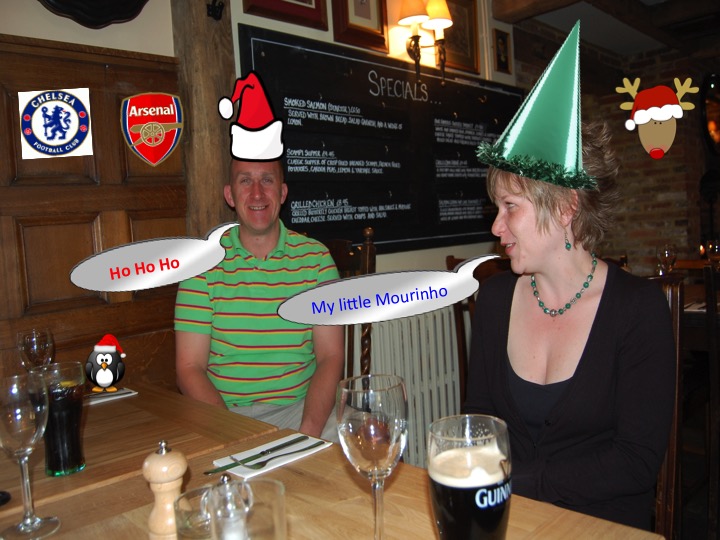 Once upon a time there was Romeo & Juliet, but Juliet was disappointed with Romeo he was an Arsenal supporter.  Being a Chelsea supporter she found a new man, who was more suitable as he was also a Pensioner, but he had a problem being all Ba Humbug when it came to Christmas.  Not to be deterred she remembered that she had seen all the pantomimes and the Good Fairy always made things right so decided to adopt that role and with a bit of fairy dust she converted him and he is now full of Christmas cheer.  However Juliet remembered the soup advert and kept singing "there are two men in my life and one of them is Portuguese".
Day 4
The first visitor for Christmas arrived at Smith Towers today, which concerned Oliver as the underfloor heating, just might be problem for a Snowman.  Being a responsible little fellow he thought it best to have a word.
Day 3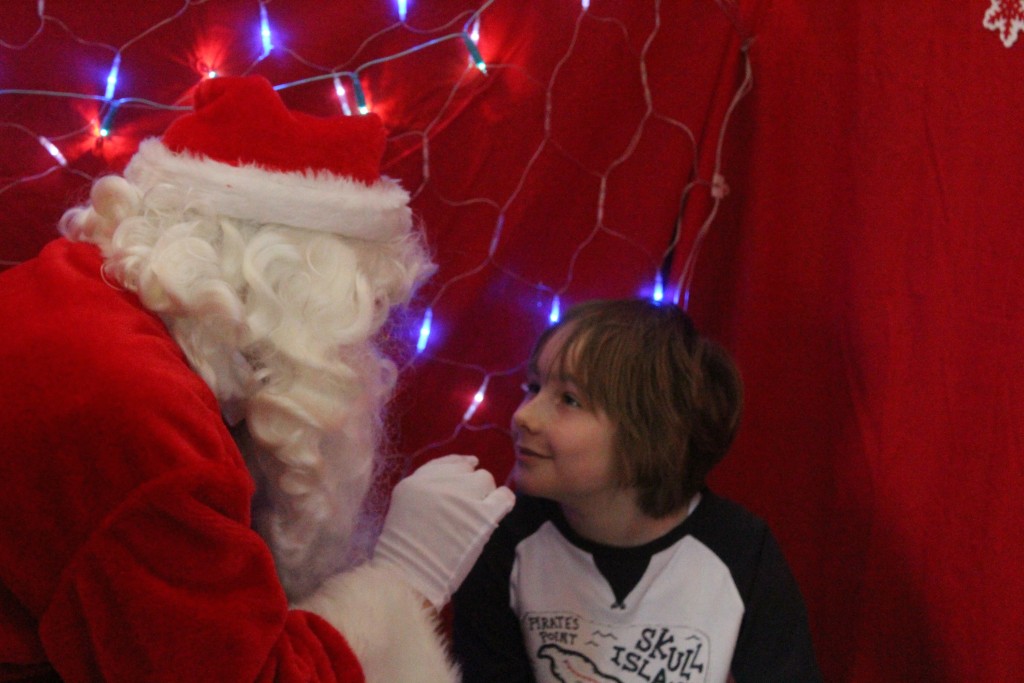 Christmas can be a dilemma, particularly when your birthday is just before.  Fred's going for the Oscar for best boy not letting out any secrets to his sister or Santa. Does he know that he knows he knows?
Day 2
Jules and Lapin have found some new Christmas friends who were lurking on The Green, Littlebourne.  It being the season of good cheer they sneaked them into the cottage, hopefully Mummy will be extra understanding and let them stay.
Day 1
Santa had heard that Smith Towers had upgraded to Gas and was concerned the abandoned chimney might be a problem. So he made a early visit to do a risk assessment, not wanting to be on the wrong side of Brussels legislation.