February 28th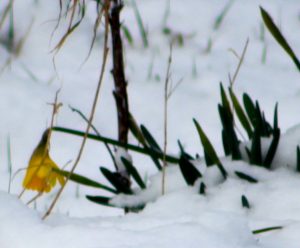 The Beast from the East hits Smith Towers
As we all turn the dial up on the central heating spare a thought for a lonely daffodil that at the weekend was standing proud. Elevenses on the patio anyone? I'm thinking it may be sometime yet before that 2018 landmark will be reached. Keep warm everyone.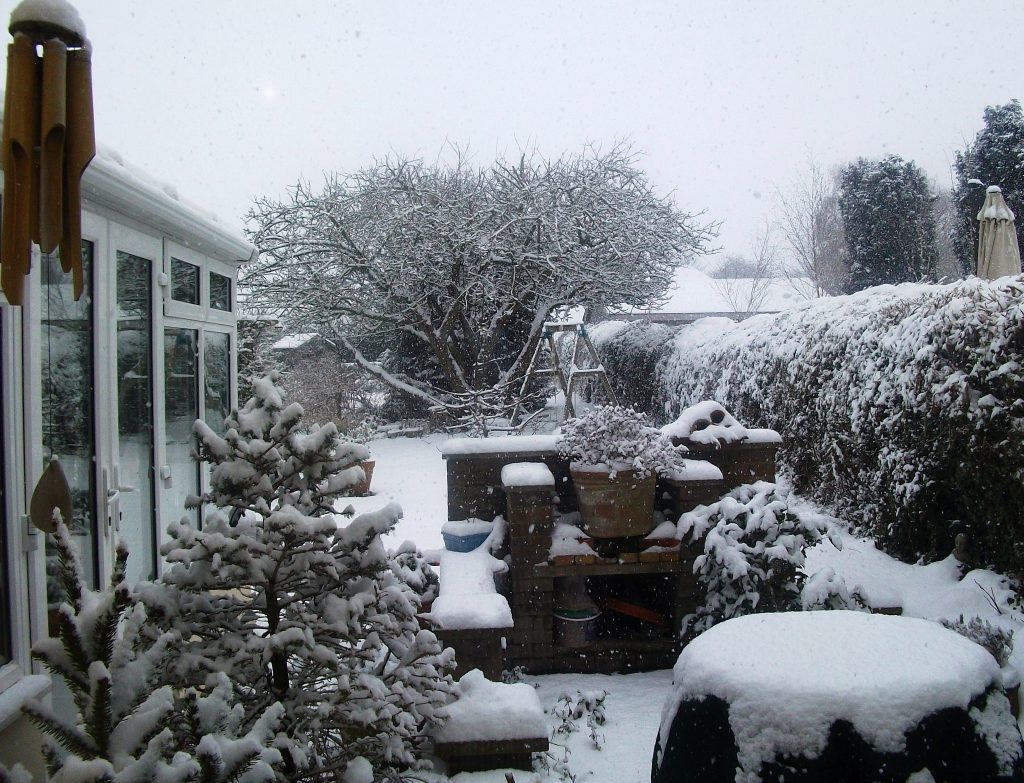 February 27th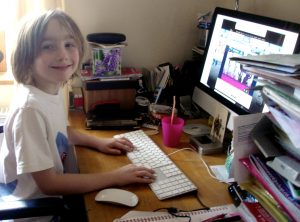 Today we learn children are losing their dexterity in their fingers because of too much activity on touchscreens and keyboards. The problem manifests itself with poor handwriting and drawing skills. Most probably there's no argument against the research, but it does perhaps pose some questions.
I'm male and have always had poor handwriting, which became more problematical when I started work and had to write accurately and legible. I overcame the problem by BLOCK PRINTING and used that for 40 years until I was presented with a computer, which was my saviour then as it is now. As a general rule women appear to have better writing skills than men. All the women I worked with had impeccable handwriting, the men not so much. Albert Einstein, Beethoven and even Bill Gates apparently don't have the best of writing skills. Traditionally, to the point of it being a Music Hall joke, Doctors had appalling handwriting also. So what's the answer?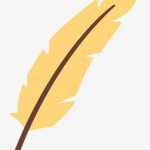 Answers on a postcard, handwritten with a quill pen, please.
February 26th
Some recent Blogs have affected me more than I originally realised, all involved Vietnam during or post the war. The post on Wednesday (21st) had a lovely image of a family sitting on a bench in a park, mum and dad with their two children. Dad had his arm around mum and the children were playing at her feet so to speak, all had smiles on their faces, quite a delight to see. As we have done they can now bring their family up without the fear of war.
With Charities now becoming a bigger story than the desperate plight of people around the world, which they should be helping. Today that story could not be found until pages 4 and 15 in the Sunday Times, the broken ceasefire in Syria languished back on page 19. Apparently Philip Green is more important.
Thank goodness the little Vietnamese family is now safe from war and with hard work be able to nurture their children into adulthood as we endeavour to do. Spare a thought for the people of Ghouta who still have molten metal descending on them daily. One day they will have peace to bring up families, but when oh when?
February 25th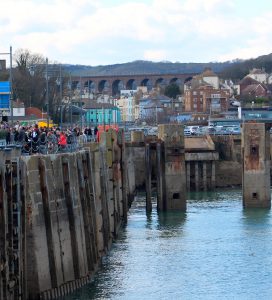 Allourlives Sunday Quiz
Where is this historic maritime location?
To help you on your way, in the past you would have seen a regular golden visitor.
Answer next Sunday.
The answer to last Sundays quiz was Margate Harbour at sunset, taken from below the Turner Contemporary.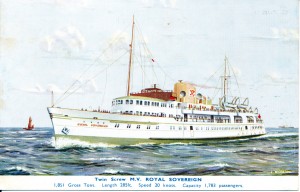 If you were unable to identify the logo it was the General Steam Navigation Company, who owned and run the day boats, Royal Daffodil, Royal Sovereign etc.
Perhaps the photo below would have been easier to identify the Margate location, but there's no fun in easy.
February 24th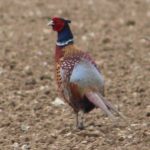 It's been a BONKERS week.
KFC (remember C = chicken) running out of the Finger Licking Good stuff. I'm assuming Jamie Oliver is happy as for one week only KFC processed chicken menu carry's no extra fat, injected water or additives in fact it's absolutely health risk neutral. Amongst others Jamie Oliver also had his own problems running out of steaks due to a recall. This would not have pleased the customers but must have put a smile on the faces of the anti red meat brigade.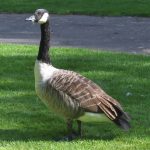 Finally today, apparently you shouldn't drink fruit tea as your teeth might fall out. Now we are living longer it certainly makes living a risky business.
So is it back to caffeine with the tea? Should the catering trade add more Chinese or Canadian and take a look back in history with an old English favourite to their menu.
Pheasant introduced from China. Canadians have always cooked their goose.
February 23rd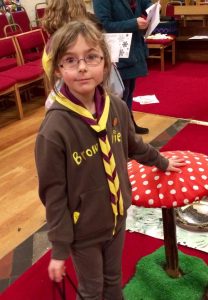 Memories are made of this
As a parent you work hard providing for your children to give them the very best of starts in life. As a grandparent you're also involved but it's more a supportive role but you have the luxury of being able to indulge more in all the fun stuff. The big drawback being Old Father Time and how much time he's going to give you to travel with them. Not that anyone wants to wish their lives away but each milestone is to be enjoyed if not savoured.
Wednesday evening this little lady made her promise and became a fully-fledged Brownie. Sweet moments are to be savoured. Bless her.
February 22nd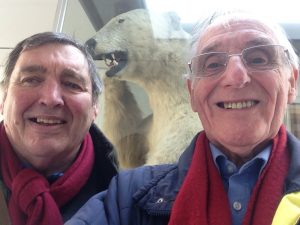 Thursdays Eric and Colin Jaunt
Once again we had to confront wild animals, not least a disgruntled Polar Bear in the Dover Museum. Having safely navigated around the said beast we found ourselves in the Bronze Age Boat Gallery with its subdued light we were drawn into another time, which may pre-date Tutankhamun. Beautifully restored and at 3,500 years old the Bronze Age Boat is a wonderful sight. Reading its history makes you realise that far from being ignorant simple people they had great skill and knowledge, which may have included navigation.
Dover History Museum is well worth a visit as it chronicles the history of the town. I would suggest you start at the top with the boat and work your way down and you will find there's something for everyone. Dovers proximity to France in WW2 and vulnerability is shown in the short video of Operation Dynamo (Dunkerque) showing the people resilience.
Click on the link for a look inside; http://www.dovermuseum.co.uk/Home.aspx
If there's a down side there's no coffee shop, important for two Odd Fellows but we found a nice little café in Church Street, which provided a lovely brew and reasonably price lunch time menu, which apparently seemed very popular with youngsters like ourselves.
February 21st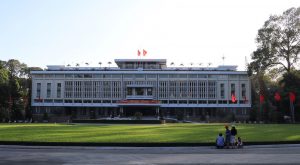 Following on from my 17th February post, and extensive coverage in the Weekend Press events of The 1968 Tết Nguyên Đán Offensive have been comprehensively documented. Billy our Asian Correspondent is currently holidaying in the region but stepped away from the Gourmet Delights to pen this post on the region currently.
We've been in Vietnam for the Lunar New Year, an early bonus holiday for us and one that has given us many opportunities over the years to explore different corners of South East Asia and the region beyond. 
The Tết Festival is a time to recover and recharge and for people to reconnect with family and friends.  It's one of the most important days in the Chinese (and Vietnamese!) calendar – one that celebrates new, spring beginnings and the ties of family.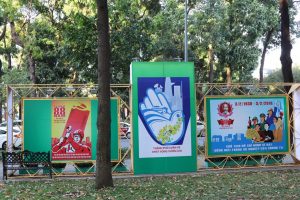 The post on the Tết Offensive, which was written after we shared some photos of an evening stroll around Ho Chi Minh City (HCMC) stirred some memories of a recent trip to The Killing Fields in Cambodia and our first trip to Vietnam seven years ago, when we had a chance to criss-cross the country and hear of people who lived through unimaginable horrors.  
A number of countries in this region have witnessed heart-breaking tragedies, its people the victims of political wars, but today for the most-part they are modernizing communities, increasingly connected, successful and importantly, peaceful.
Yes, human tragedies and abuses as a result of overt and disguised wars continue to plague parts of this region and we only have to look at Myanmar and the desperate plight of the Rohingya people to be reminded of why history is so important – but today the people of Vietnam are able to celebrate the festivities as one people and without the dark clouds of conflict swirling. 
Walking through the parks of HCMC in the dappled light of sunset, watching families picnic and soaking up the last hours of Tết, the 50th anniversary of its namesake Offensive feels a world away. The little ones are likely yet to learn the true horrors of the past but the older generations, in the shadows of the traditional tranh cô dông (propaganda posters), will know what went before. Resilience is one word that springs to mind. Remembrance is the other.
The world interprets history differently, but as we enter the Year of the Dog we renew our hopes for a more peaceful world and a great deal more respect for what binds, rather than divides us.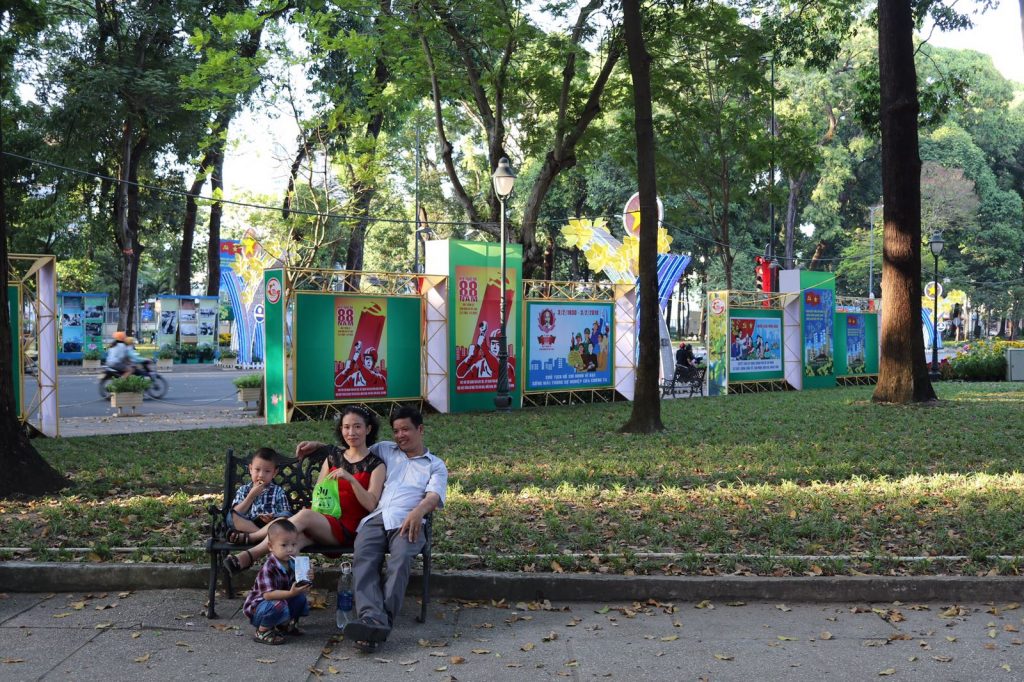 The image of the family reminds me of wise words from the Late Canon Hegarty of St Thomas of Canterbury; "irrespective of religion or politics and their subsequent doctrine's the family is always more important". Wise words indeed.
February 20th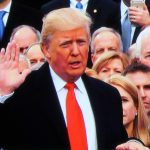 Across the Pond Donald Trump is battling conspiracy allegations with the triangle of him, the FBI and the Kremlin. Fake News or not it's a story with legs that will run and run.
Between 1974 and 1976 Harold Wilson was convinced Officers of MI5 were conspiring against him, a controversy that continued throughout the 70s and 80s. Enquiries have been made since but nothing has ever been proven.
2018 and Jeremy Corbyn, John McDonnell and Ken Livingstone have become embroiled in an espionage scandal that they were in the pay of the Eastern Block in the Cold War back in the 80s. Accusations that all three have denied. It's well documented their connections with the IRA, which you could say took the three off-piste. It will now be interesting where the legs will take this developing and rolling story.
You couldn't make it up but it appears history keeps on repeating itself.
February 19th
Listening to Broadcasting House on Radio 4 yesterday morning and a discussion between Ann Leslie and Simon Jenkins on cultural wars, which eventually came to social media. Leslie stated she wasn't on FB or Twitter and couldn't fully understand the need to comment on or like a post, whereas Jenkins thought it was a good thing because it gave the people a voice. Both are my peers and it was interesting to hear their differing views on communications which, thank goodness is available to us all.
Modern communications is an extension of the book, radio/TV and the good old fashion letter. Before modern air travel the opportunities to us were so limited and unaffordable. Now we can have video calls around the world at little or no cost, keep in contact with family and friends, very important if they live and work overseas and travel to the four corners of the world. To Ann Leslie and all like-minded peers encompass it and you will be much richer for it. Hitler burnt books but the pen was mightier than the sword, they said TV would kill off the book, there are more books published now than ever before. Let it grow, let it grow.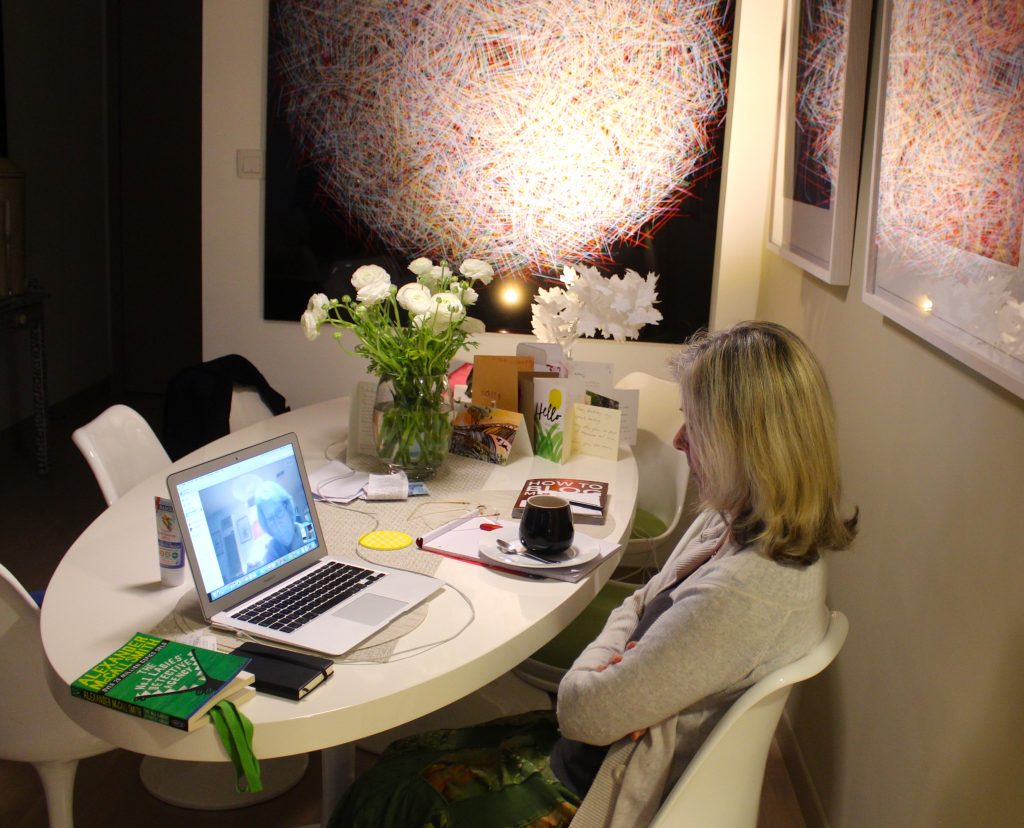 The photo is of the Current Mrs Smith on her travels in Hong Kong video calling to our Antipodes correspondent Ruthy in Australia, now that's encompassing. Thousands of miles apart but holding hands, albeit electronically, which is a long way away from the incompetent Radio Ham, Tony Hancock in 1961.
February 18th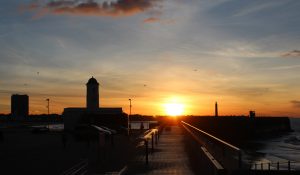 Allourlives Sunday Quiz
Where is this Kentish Sunset?
To help you on your way; This Logo was once a frequent visitor.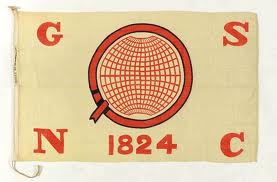 Answer to last Sundays quiz is the covered walkway on the Admiralty Arm, Dover Harbour.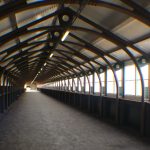 Originally split for foot passengers for the Steam Packet Ships and the Admiralty Pier Promenade's. Click on the link for some interesting information.
http://free4mconsulting.com/projects/ports-and-harbours/admiralty-walk/
February 17th
The 1968 Tết Nguyên Đán Festival changed the world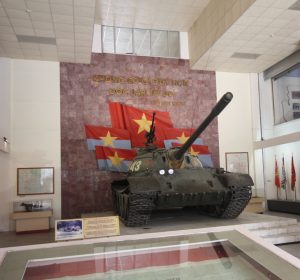 In Vietnam the Tết Festival is as important as the Chinese New Year, it being the first morning of the first day of the New Lunar Year. Fifty years ago events in Vietnam would have repercussions around the world that still affect us today.
The Vietnam War was in full swing but there was a three-day truce for the Tết Festival, which relaxed the Americans and their allies, a situation the former would eventually pay a huge price for. On the morning of the 30th January 1968 the Viet Cong also known as Charlie attacked across the country even into the centre of Saigon, including the American Embassy, killing many Marines. The Americans were seriously caught out and on the back of their supreme commander briefing Washington that they were on the road to victory. It was the first time that Charlie had attacked urban areas; previously it had been predominantly jungle warfare.
My recollections of the event are of Julian Pettifer reporting on the BBC crouched behind a wall with his cameraman giving a bullet by bullet account of the Saigon attack. Reporting was supposed to reflect the military briefings, however Pettifer had seen the reality and reported accurately what he saw, getting him into hot water with the American Military. CBS Anchor-man Walter Cronkite arrived at this time and like Pettifer didn't accept the military's spin on affairs and being the most trusted American back home, Lynden B Johnson realised he had lost the Nation and would not stand for a second term. Although Charlie had shocked their enemy they lost the battle but American public opinion against the war hardened, although the war went on for another seven years.
For an interesting snapshot of events and the full extent of repercussions then and now go to the BBC website and listen to Julian Pettifer with others reflecting on his time in Vietnam. http://www.bbc.co.uk/programmes/b09p2kfc
The Tank and Mig-21 are exhibits at the Vietnam Military History Museum, Hanoi
February 16th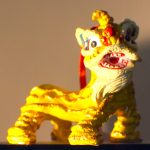 Happy Chinese (Lunar) New Year
It's the year of the Dog check out if you're a canine.
| | | |
| --- | --- | --- |
| Dog Year | Start | End |
| 2018 | February 16, 2018 | February 4, 2019 |
| 2006 | January 29, 2006 | February 17, 2007 |
| 1994 | February 10, 1994 | January 30, 1995 |
| 1982 | January 25, 1982 | February 12, 1983 |
| 1970 | February 6, 1970 | January 26, 1971 |
| 1958 | February 18, 1958 | February 7, 1959 |
| 1946 | February 2, 1946 | January 21, 1947 |
| 1934 | February 14, 1934 | February 3, 1935 |
This old chap couldn't see what all the fuss was about, so he went to SpecSavers to see if he could view things differently.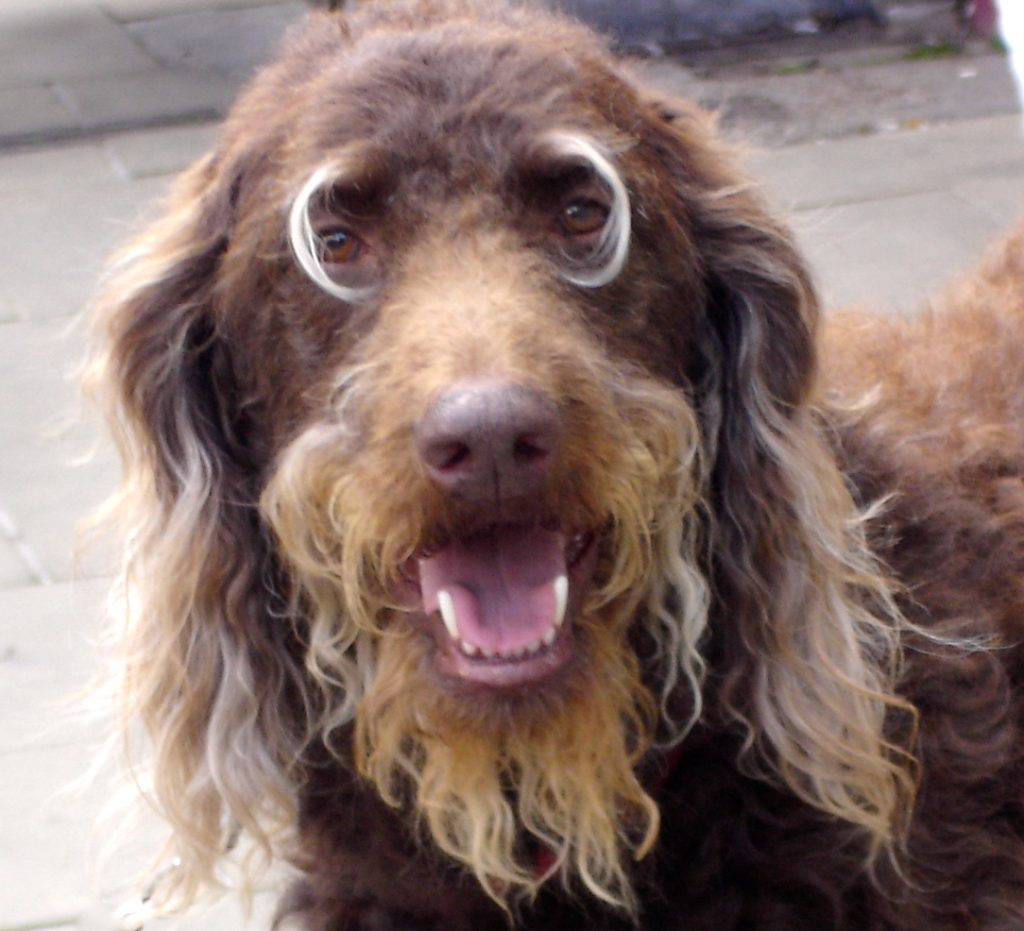 Photo from the Ophilie Spiers collection, with thanks.
February 15th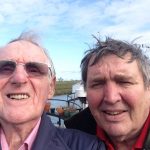 Thursdays Eric and Colin Jaunt
A beautiful spring like day and it was a delight to be at Faversham's Standard Quay, what a difference a few degrees make. A wander around looking at the differing outlets was interesting and a bit of nostalgic fun. Coffee in the Secret Garden Café and good old-fashioned natter and all was good in the world, except for??????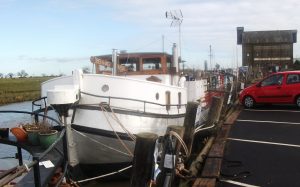 If you find yourself in East Kent and have an hour or so to fill then Standard Quay is worth a visit. Heritage being preserved by putting it back to work.
February 14th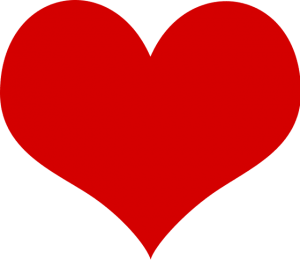 The current Mrs Smith – Always someone's Valentine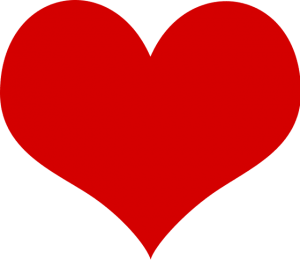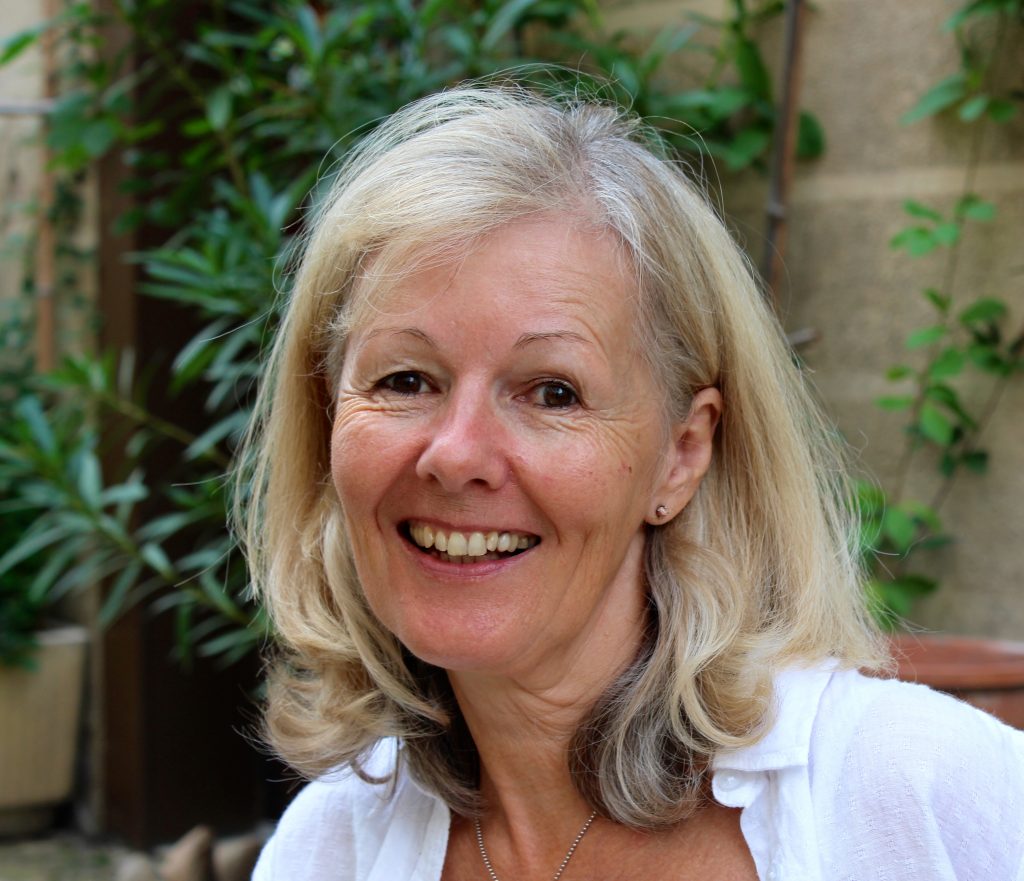 February 13th
Hilary's a flash with the pan

Back in the eighties the Current Mrs Smith became a local celebrity with a mention in the Kentish Gazette. She is well known in the family for her cake making skills, but her crêpe Suzette not so much. The article in the 7th February 1986 edition of the Gazette tells it all: –
There were cheers all round for Hilary Smith when she showed these kids how to toss a pancake, even though it wasn't exactly perfect.
Not perfect but beautiful formed. The children of St Nicholas Nursery in the Wincheap Jubilee Hall however were impressed when she flipped the pancakes several times for the photographer without dropping one.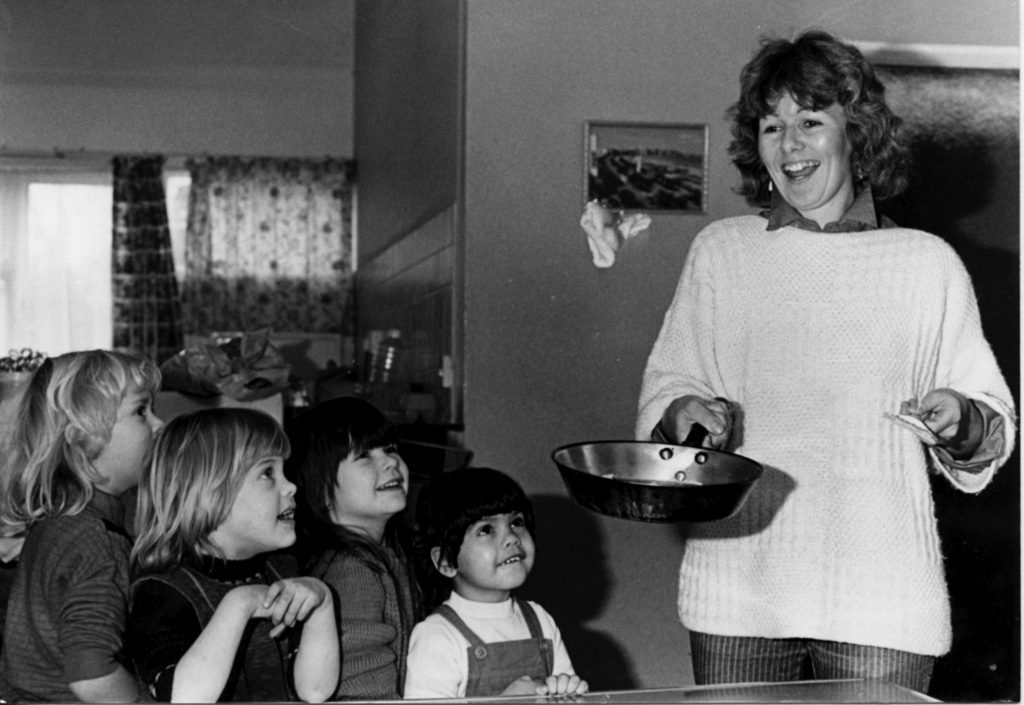 The Current Mrs Smith, always the showman oops, woman.
February 12th
Do the weak and vulnerable always have to suffer because of others behaviour?
With the announcement of inappropriate behaviour of some Oxfam personnel in the field, it now appears to be engulfing other major charities, including the Red Cross. Such behaviour is inexcusable but we must not lose sight of all the hard working folks running their shops, fund raising etc. up and down the country. Volunteers who fit charity work in around their own busy lives for little or no reward except the satisfaction of helping others less fortunate.
With the current conflicts, genocide and famine we shouldn't stop this valuable charitable work. Unfortunately it appears the powerful once again have taken advantage of the very people they are supposed to be helping. Ironically, if they are found guilty they will be disgraced but they will still have a roof over their heads and food in their bellies, unlike their victims.
February 11th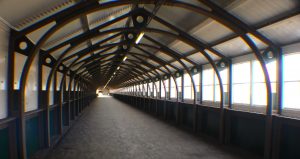 Allourlives Sunday Quiz
Where is this piece of Victorian architecture in Kent?
Answer next Sunday.
To help you it wasn't built for the Admiralty but has connections.
Answer to last Sundays location: The Arches, Military Road, Ramsgate.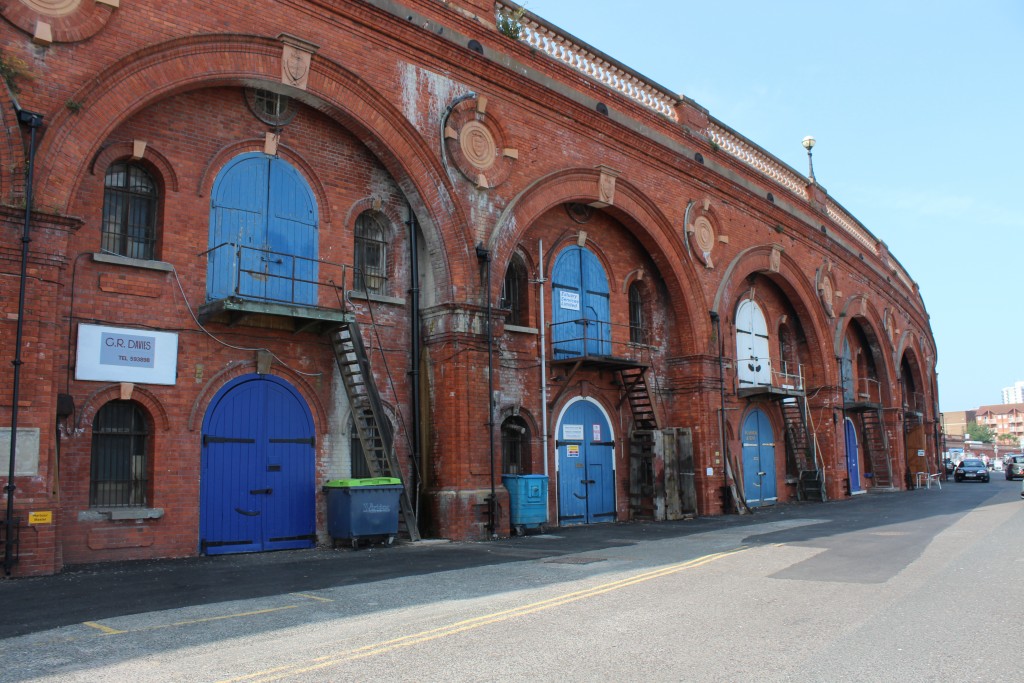 February 10th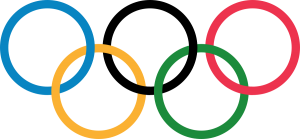 Kent Life scuppers Billy
Billy our Asian correspondent has gone to the Winter Olympics undercover in an attempt to get an exclusive story. His cover was blown after he was snapped by the Paparazzi at the PyeongChang, Alpensia Ski Jumping Centre checking the Kent Life to see if there was any mention of the 2018 Canterbury, Merton Lane Games.
Poor Billy, always a long way from home unlike his heart.
February 9th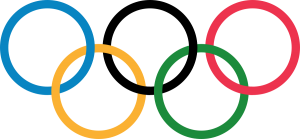 1956 Canterbury Winter Games – Merton Lane Hill
The Winter Olympics 2018 brings back many memories of past games. Eddie the Eagle (Calgary 1988), Torvill and Dean, Tony Nash and Robin Dixon (Two man bobsleigh 1964 Innsbruck), Lizzy Yarnold all UK Gold medal winners, with one exception. However historically 1956 was a special year with the Cortina d'Ampezzo Winter Olympics in the Italian Dolomites. It was the first to be televised and brought the games right into our homes.
However there was a parallel games in Canterbury, which was very competitive on Merton Lane Hill. Different from the Olympic disciplines' the games centred on the little known Articulated Luge or if you got it wrong the Skeleton as it could all get very messy quite quickly. With Global Warming and the increase of motorcar ownership, sadly will not be repeated and just remains as fond memories.
Photos from the Jenny Coltham (nee Clements) collection with thanks
February 8th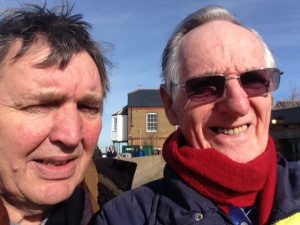 Thursdays Eric and Colin jaunt
Today we have been all cultural with a visit to the Horsebridge Centre, Whitstable. It's a small venue but very pleasant with a full programme of exhibitions, clubs, workshops and entertainment.
Gallery 1: Today was dedicated to Artist Gavin Alexander with his 'What a Wonderful World exhibition'. His work is wonderful and varied from the big city to the delicate shoreline, not to mention his moths and butterflies or indeed his big bee. Click on the artist name to read and see more.
Gallery 2: This exhibition was entitled 'Made in Herne Bay: Recent Works', which was a compilation of local Herne Bay artists. One artist's work that caught my eye was Kate Samuels and her enamel work. It took me back in time but was modern, colourful and just good fun. Check her work out by clicking on her name.
In recent months we have gazed at the Tracy Emin 'MY Bed' at the Turner Gallery and local artist work at the Kent Wild Life Trust, New Romney and have discussed the merits of all. Art I guess is in the eye of the beholder and today was a grand day. Which is best? A question that cannot be answered.
February 7th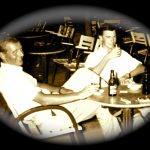 Who needs travel insurance?
Yesterday the Texan businessman Elon Musk had the Falcon Heavy Lift Super-Rocket launched into space with a Tesla car on-board, which was playing David Bowie's Life on Mars on repeat. A wonderful achievement but I'm concerned about the Tesla.
54 years ago my friend Vic and I set off on what I perceived to be at the time the adventure of a lifetime. This adventure also had a car launched, albeit not into space. Our adventure started at Lydd International Airport in Kent with my 1958 Ford Anglia, OFN 603, being loaded onto the British United Air Ferries, Bristol 170 Mk. 32 Freighter Vigilant G-ANVS, prior to the short flight to Le Touquet. The adventure took us down through France over the Pyrenees into Andorra and onto the Costa Brava in Spain.
It was a wonderful experience and opened the door for a lifetime of independent travel. However, we had the luxury of AA 5 Star cover, which looked after both vehicle and occupants. I wonder what cover Mr Musk has on the Tesla?
Photos from the Vic Goddard collection, with thanks.
February 6th
Every day is an important day for women but today is especially so with a raft of women's issues. Firstly, it is International Day of Zero Tolerance for Female Genital Mutilation. Click on the link for Mona Eltahwy for a reality check. As she says "there is no room for this torture and assault that affects too many girls". The late Sue Lloyd-Roberts was instrumental in bringing the abuse of women to the foreground, when it was not so popular to do so. Although it's shocking it has to be seen to change minds.
Secondly, it's 100 years on from women getting the vote with the BBC Radio 4 Today programme announcing that Dame Millicent Fawcett voted most influential woman over the last 100 years.
Despite all the gains over women's rights there's still hurdles to jump. Today we have moved on from the only work available being in the fields. In the photo is my Grandmother Edith Smith (third from left) carrying my Auntie Daisy (in striped tunic). Equal pay and opportunities? There's a way to go.
February 5th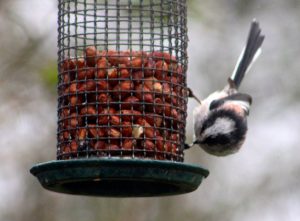 Smith Towers had a surprising visitor yesterday a pair of Long-tailed Tits (Aegithalos caudatus), one of our smallest birds. Apparently they were virtually wiped out in the winter of 1947 because of the severe frost. I had never seen one before. Photos are not the best quality, in my defence it was a grey day with poor light and I was indoors. I'm now looking for the pair to return for further photographic opportunities.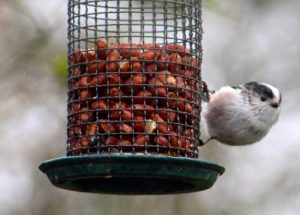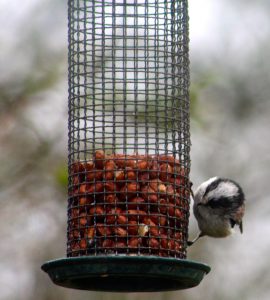 Note: The latest edition of Hilltop News is available on the Hilltop News page
February 4th
Allourlives Sunday quiz – Can you identify the Kent location of this little detail?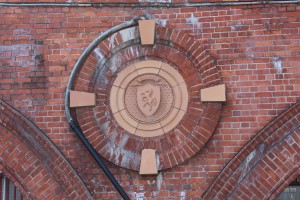 To help you on your way it's a Royal place. Answer next Sunday.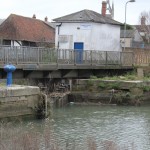 Last Sundays location was the swing bridge, Bridge Road, Faversham, which is between the Creek and the Upper Basin (Ordnance Wharf). The area is subject to development under the Faversham Neighbourhood Plan.
February 3rd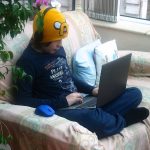 Looking after Grandchildren is a responsibility.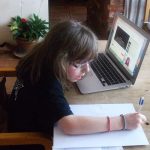 In the past it would have involved a trip to the park, football or a walk in the woods. Not today, it's cyberspace.
Pour me another coffee Nan.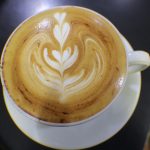 Nothing like being toasty warm indoors on a damp chilly February.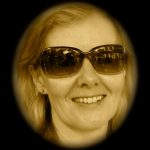 The current Mrs Smith is not so sure and is beginning to feel a little guilty.
February 2nd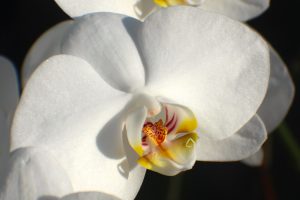 100 years ago some women in this country that were over the age of 30 achieved the vote, we have come a long way since then but there's still much more to do. Recent revelations have shown powerful men taking advantage of their positions and women being under valued both in ability and monetary terms. In our society these situations now come to the surface more and more, which helps in the fight for equality.
Other cultures have much to do, with all the problems we associate within our culture plus violations of females, particularly the young. Female Genital Mutilation (FGM) and under age girls being subjected to forced marriages with old men to name just two. You cannot defend the indefensible and there's no place for macabre practices and they have to be stopped now but long term it has to be an education. Education, education, education!
454 British soldiers died in Afghanistan fighting an ideology, with the resurgence of the Taliban is their sacrifice to be in vane? It's taken us 100 years to get where we are today with more to do, hopefully it won't take that long for other cultures around the world to catch-up. The reality is I guess that it will be long road.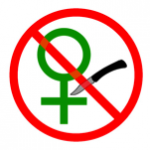 If I had to choose just one thing I could eradicate immediately it would be FGM.
February 1st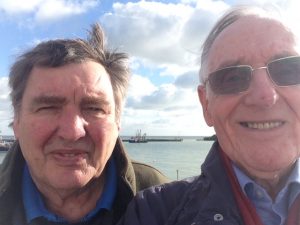 Thursdays Eric and Colin Jaunt
A lovely sunny but chilly day and we found ourselves in the Folkestone Fish Market watching a fishing vessel with a two man crew set out into the Channel.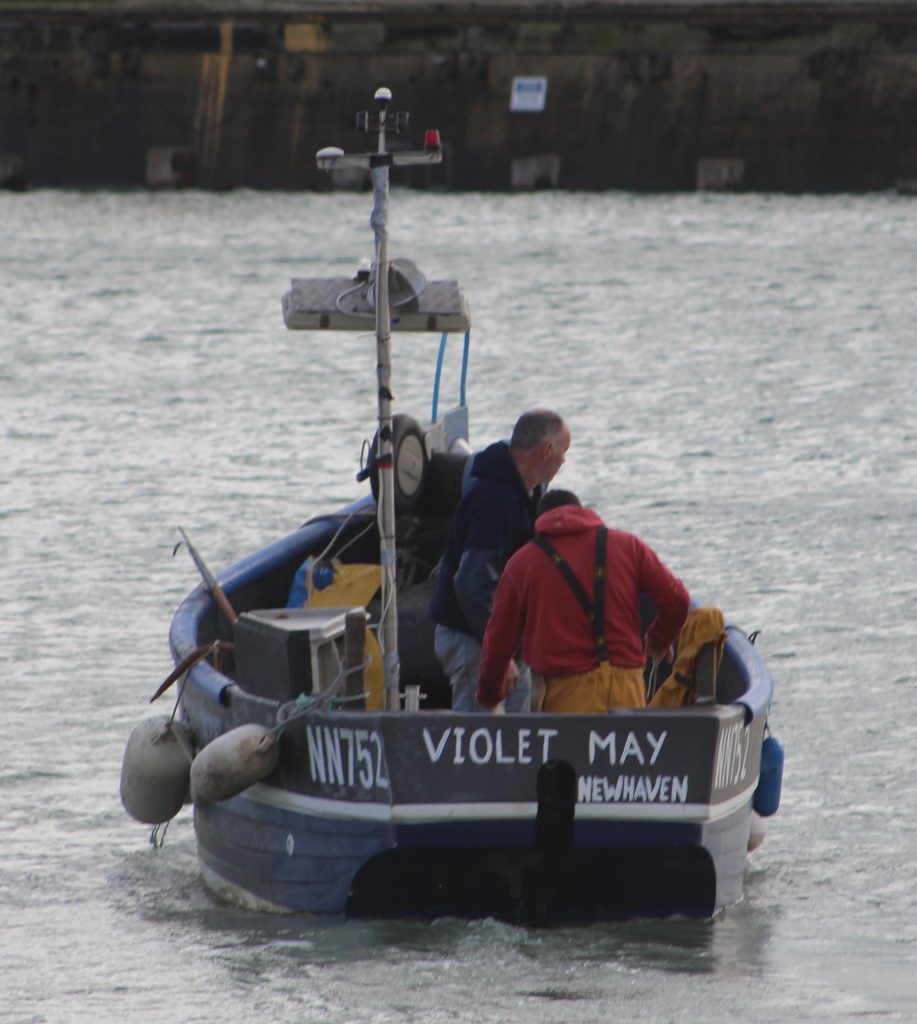 The harbour also still has ruminants of their Triennial Arts Festival.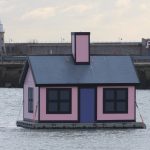 On a day like today it was very much a chocolate box scene. Having coffee and a chat with a good friend in The Captain's Table. What could be better?
I was then reminded of the coroners finding this week of accidental death for the two Belgium fishermen lost off the coast of Ramsgate on the 27th December 2016 and mentioned in my Blog on 29th.
Fish on our plate can come at great cost