Day 31
As the sun sets over New House Lane (Hilltop) we say farewell to 2016. Some ups and some downs but a road well travelled together with the current Mrs Smith. Thanks everyone we have met and shared it with along the way.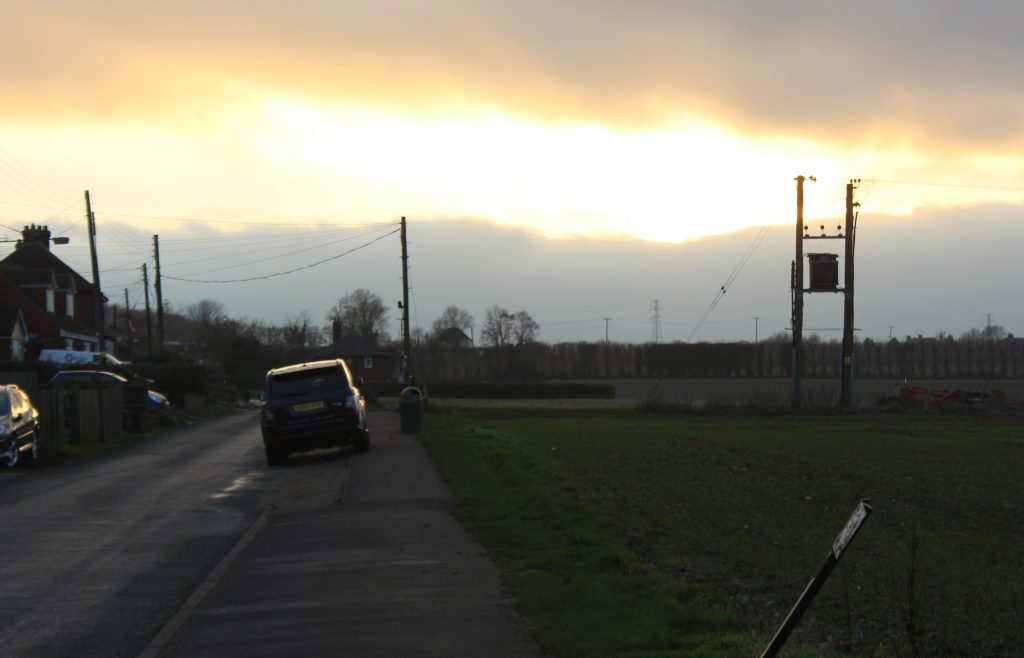 Day 30
This little Guy has been one of the Stars in my Advent/December dialogue. Today he managed to fall out of bed and fracture his arm.  Having had first class treatment at the Kent & Canterbury Hospital decided best to have a Bourbon biscuit and Pyjama Day. Get well soon Ollie.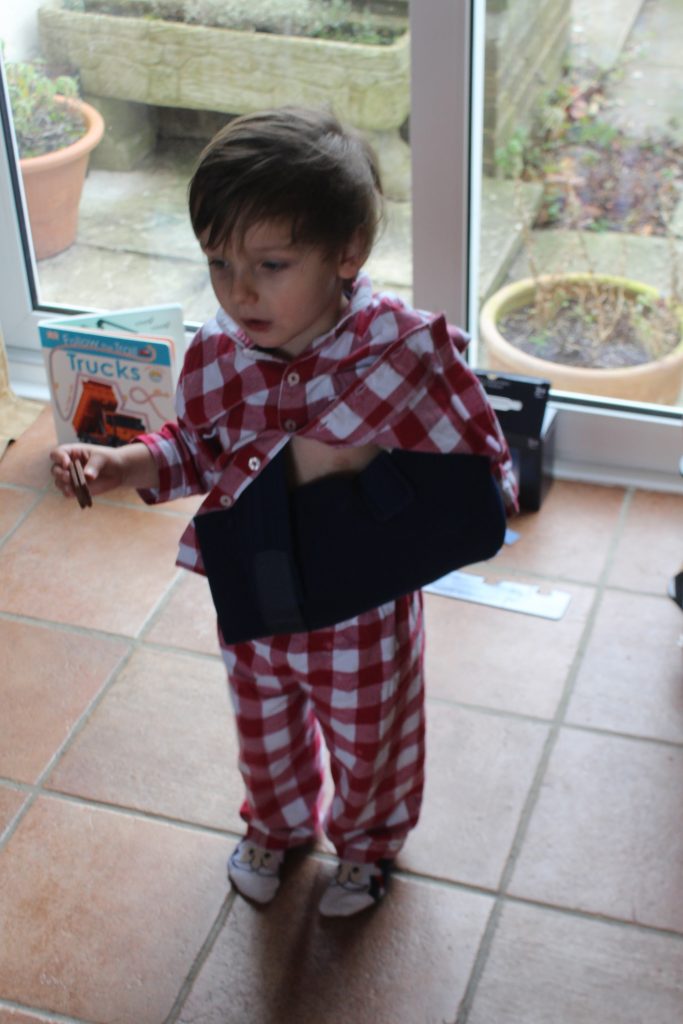 Day 29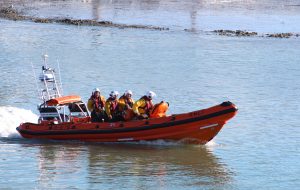 When you next buy fish and you think it's expensive please remember it doesn't come out of a factory. Fisherfolk go to sea in all conditions to provide our fish dinners, whether it's Fish Fingers or good old fashioned Cod & Chips. Yesterday a Belgium fishing boat capsized off the Kent coast, one person was rescued, unfortunately two others perished. Both the inshore and the all weather (AWB) Ramsgate (RNLI) life boats were launched along with the Harwich AWB vessel. The Coastguard SAR helicopter was also scrambled from Lydd. We think of the loss of the individuals and have their families in our minds in their moment of tragedy and loss. R.I.P.
The inshore vessel is the Atlantic 85 Class – Claire & David Delves.
The AWB is the Trent Class – Esme Anderson.
Both are photos from the Allourlives Library.
Day 28
Following the excesses of Christmas the current Mrs Smith decided the only safe place was Canterbury Whole Foods.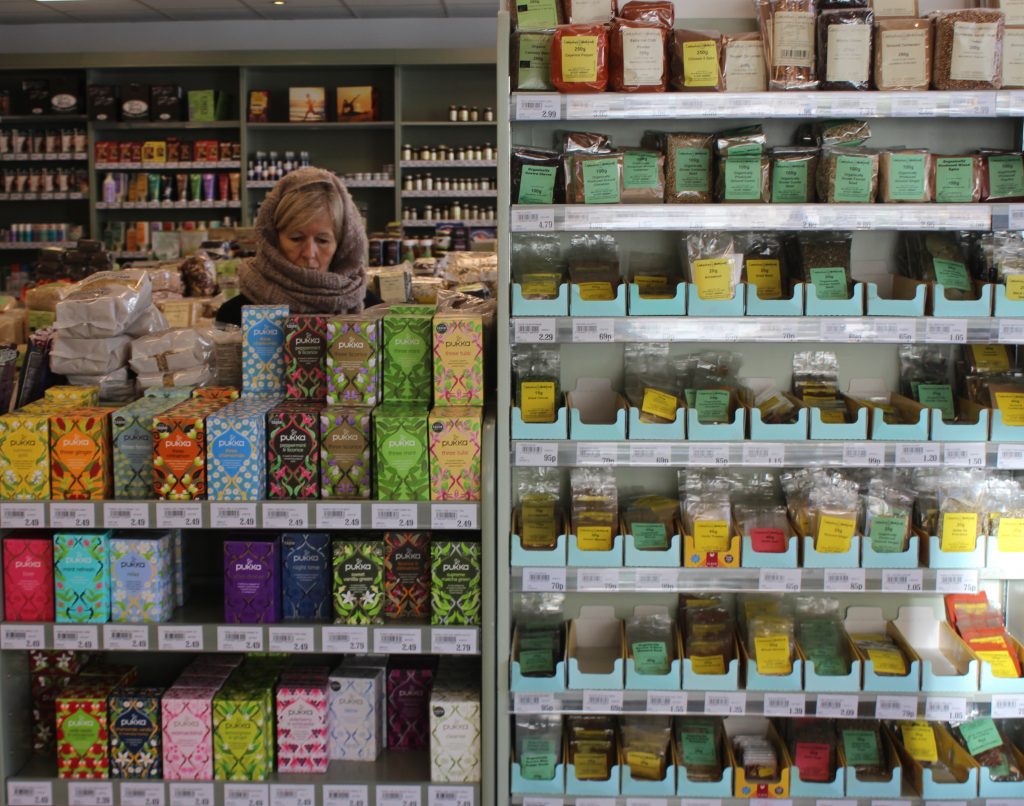 Day 27
Christmas goes as quickly as it comes. Time to get the staff out in the garden.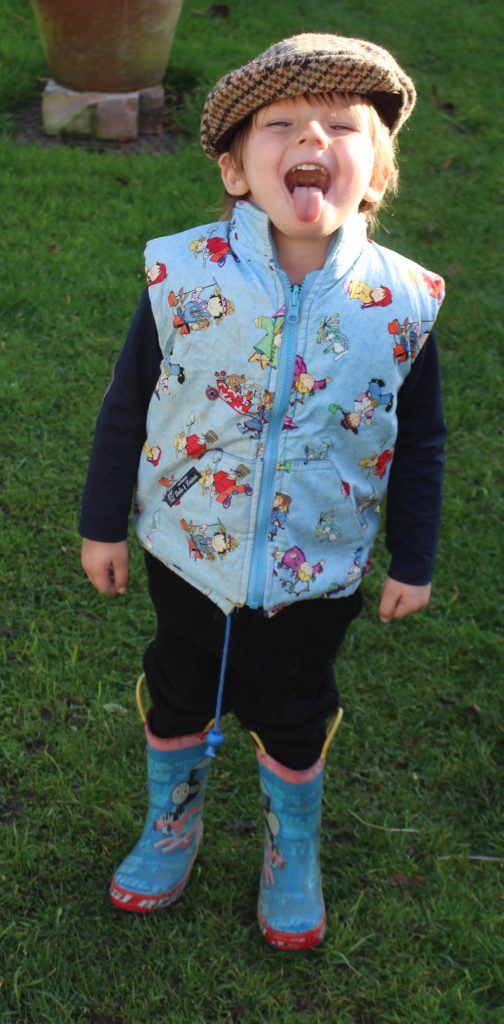 Day 26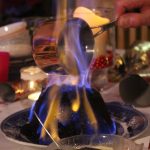 Boxing Day and a time for reflection and thanks.  A lovely family day culminating with the evening meal.  Today is tummy rest day.
The table survived the flambéing of the pudding for another year. This year it was a homemade 2014 pudding to Delia's recipe with additional nectar added. Tasty!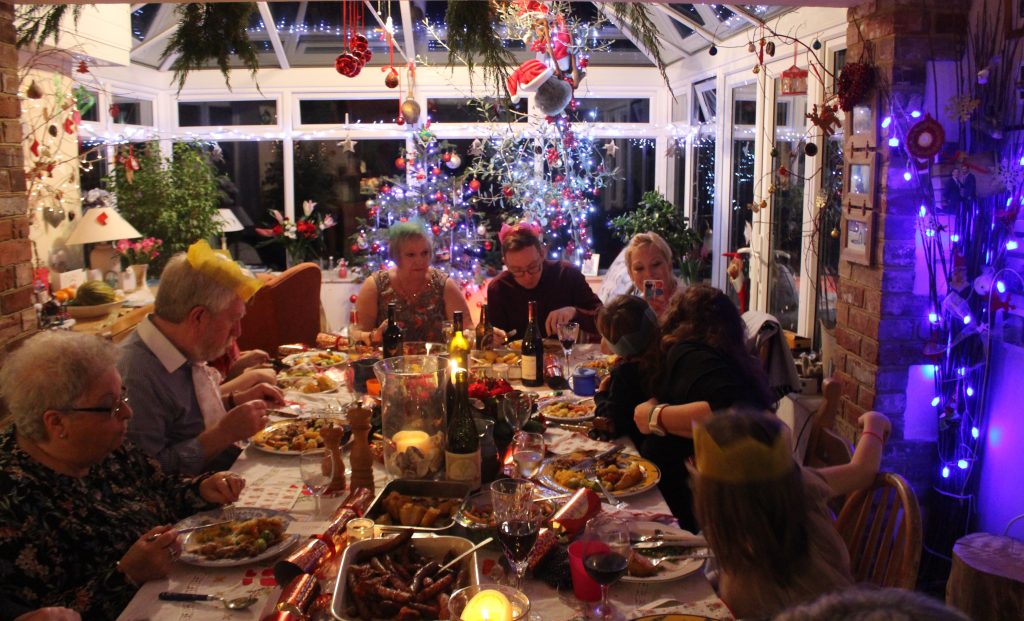 Day 25 – Christmas Day
Hilary and I would like to wish each and every one of you a very happy Christmas and a peaceful New Year.  Always remember at this time there is a lot of 2017 in front of us so lets make the best of it.
Day 24
Christmas can be chalk or cheese depending where you are in the world.
Children in Adelaide are all tucked up in bed waiting for you know who.  The Glenelg Parade is a little different but fun none-the-less. Sun and temperatures in the thirties, it's bonkers, how do they stop the snow melting on that float?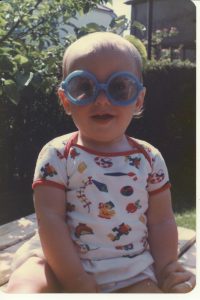 Our Asia correspondent has been out with his Brownie Box capturing celebrations in Honkers. We all thought John Simpson was the master of disguise when he donned a Burka, but our man  also went undercover and found it was all going on in Hong Kong.
Children love Christmas and what better way to celebrate than singing carols.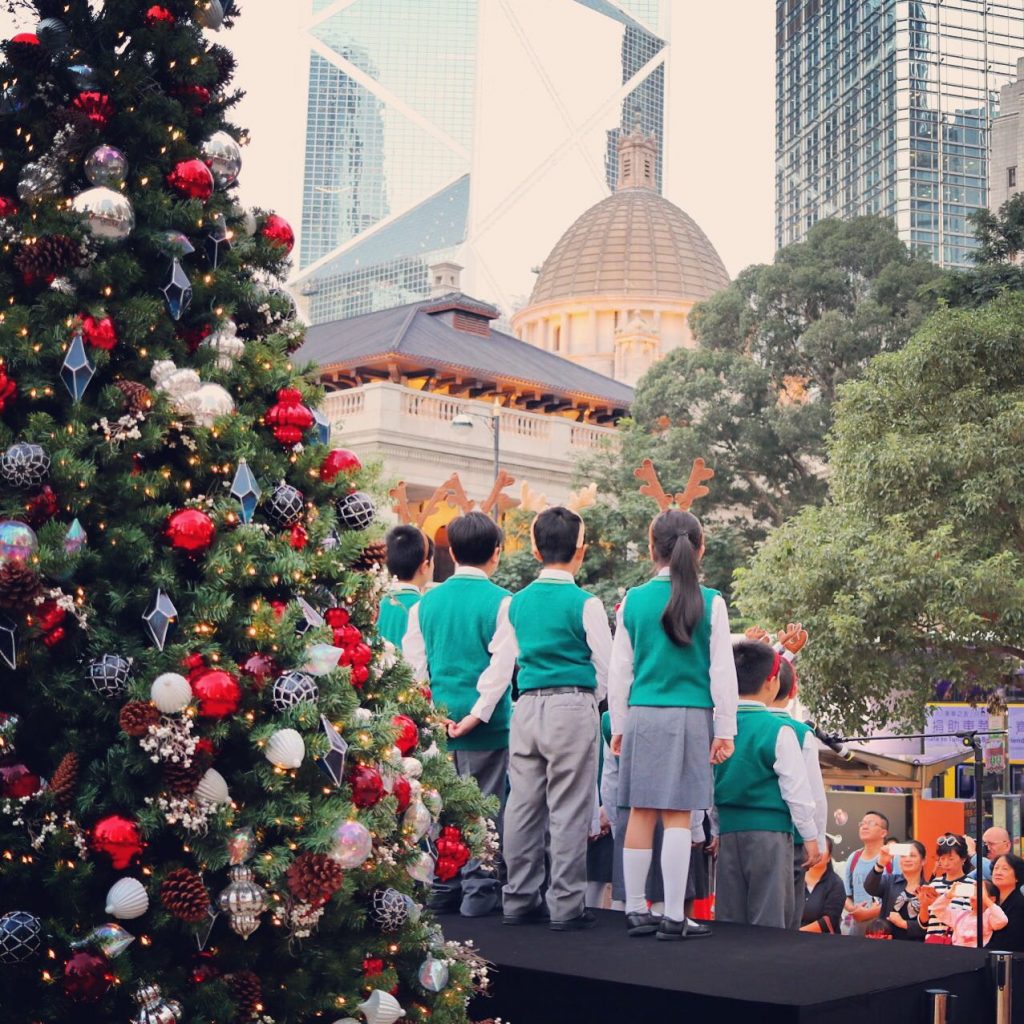 Hong Kong is quite unique in encompassing all cultures from the children's song book to commercial neon Honkers has it all.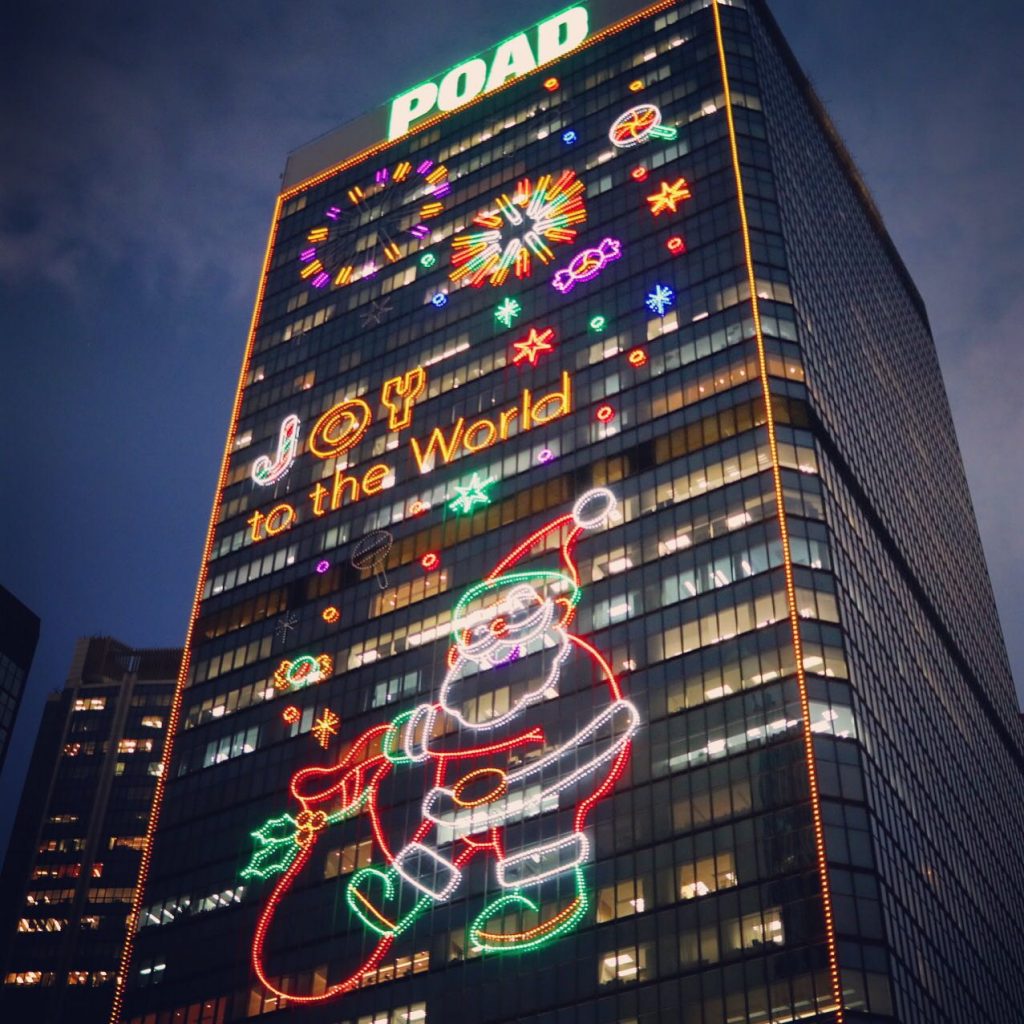 Canterbury on the other hand is the chalk.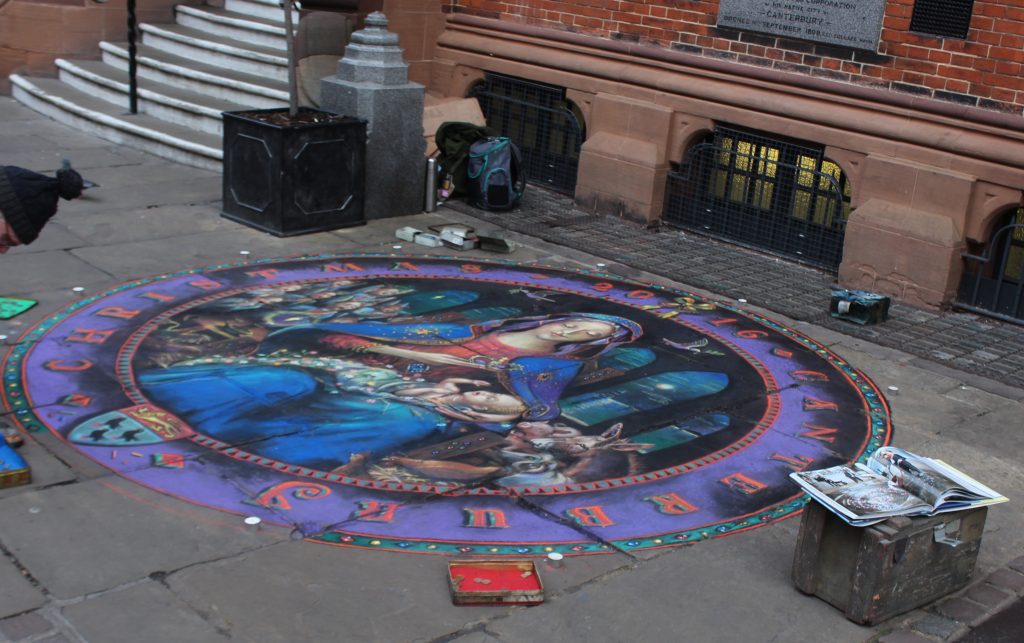 Day 23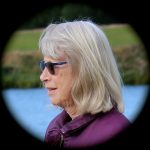 As Barbara approaches us from the Atlantic our correspondent, Ruthy the Galvin Girl reports once again from the Antipodes. This time however it appears she is having a laugh, providing a photo of her, so called Christmas Decoration. With Adelaide temperatures climbing ever higher as we sit it out with the shortest days, avocados don't constitute a Christmas Decoration, however they do look rather nice. Perhaps Santa's Reindeer eat avocados when down under.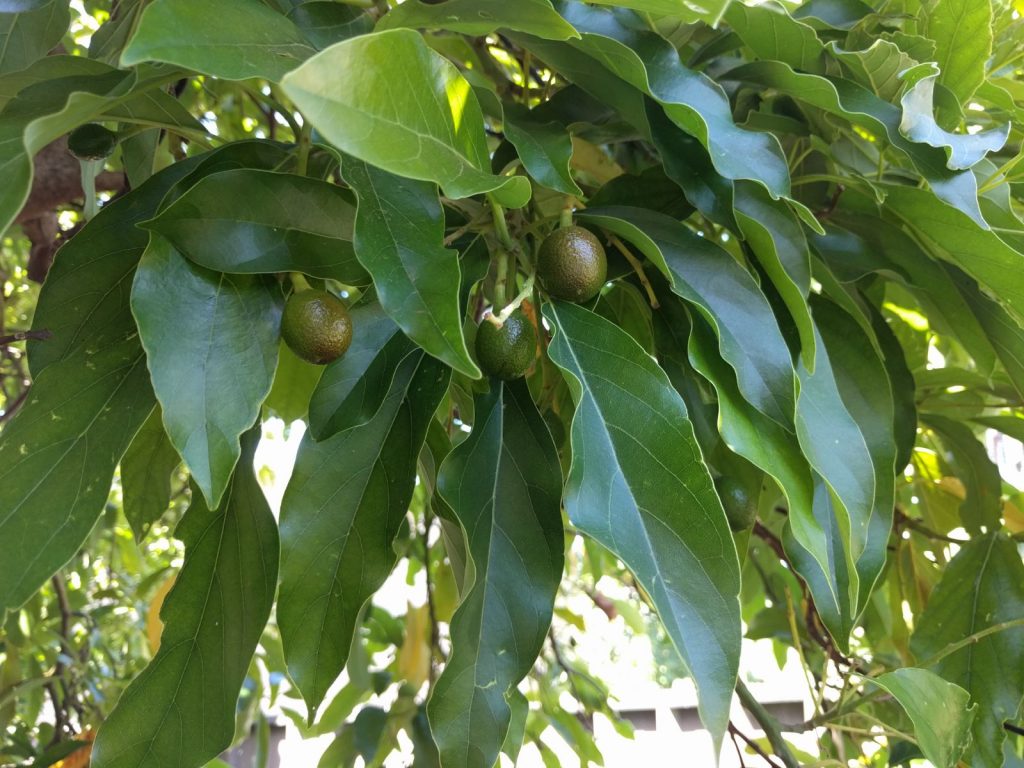 Day 22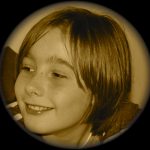 Today we pause Christmas preparations to celebrate two special birthdays.  One is going to reach the great old age of 11 the other is going to be young at 11 Plus, and a bit more.  Happy Birthday Pam and Freddie, enjoy your special days.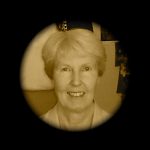 The Paparazzi have been out and about and caught the moments of a special day.
Fred had his cousins visit for the day so there was much noise, fun and the odd emotion that required some parenting skills.  Uncle James Uncle and Andrew dropped in from Hong Kong via Skype for a quick chat.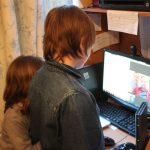 The current Mrs Smith, sometimes known as Nan made a chocolate explosion of a cake, which would launch the most robust of us into space. Some say Nigella is queen of cakes and all things chocolate, which maybe so in the TV World, but at Smith Towers, Hilary reigns supreme.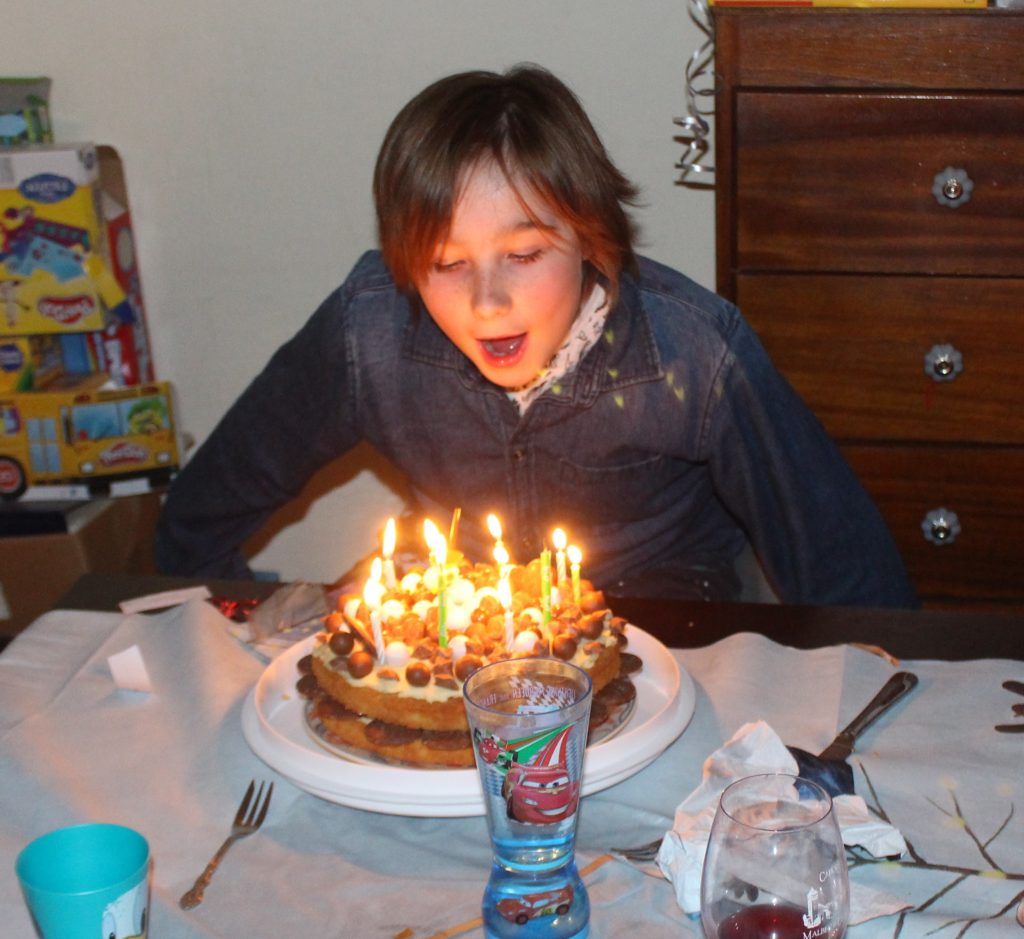 In another county a Birthday Girl's Brother-in-law, nephew and niece treated her to lunch. According to reports it was a jolly occasion enjoyed by all.  Pam at 11 Plus, and a bit more, forever young.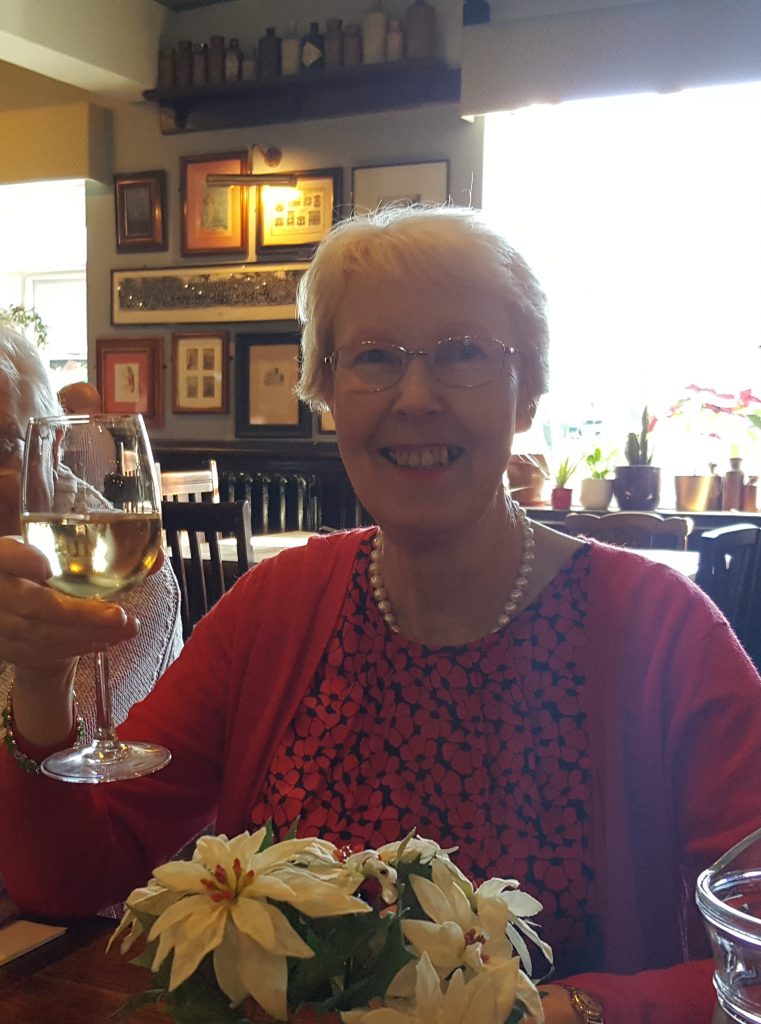 Day 21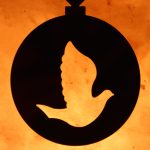 Accepting the horrors of Syria and Yemen I was hoping that things might be calmer in the run-up to Christmas. Unfortunately the assassination of the Russian Diplomat in Turkey and the truck killings in Berlin remind us that there is a hatred out there.  Each and every life is important and should not be taken by others.  I hadn't planed to use my dove symbol but third year running it has to be used as I have no better way conveying my hope for mankind.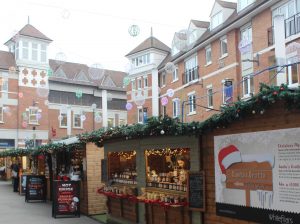 Canterbury has a Christmas Market and although small in comparison to the markets on the continent was in full swing today.  We cannot allow terrorism to change our standards and way of life.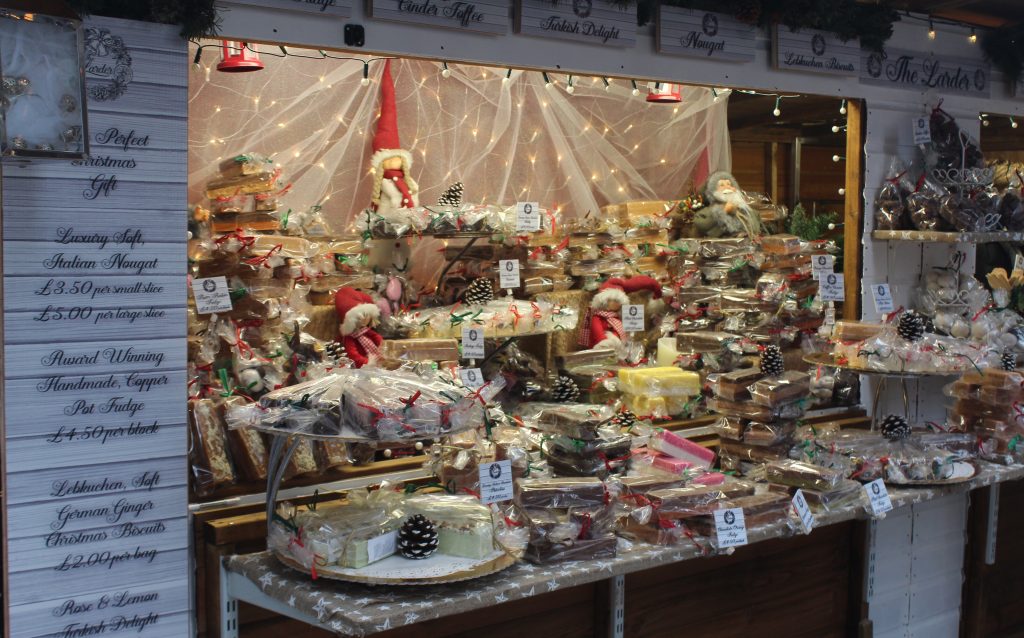 Day 20
The lovely and current Mrs Smith asked me what I wanted for Christmas.  Being a bit cautious I said I like things Italian & red, I also like horse lo-go's. At three score years and a bit I have a need to fuel my ego and keep myself a legend, albeit in my own mind. Looking around as one does at Christmas I believe she got the message, although she maybe taking the Micky.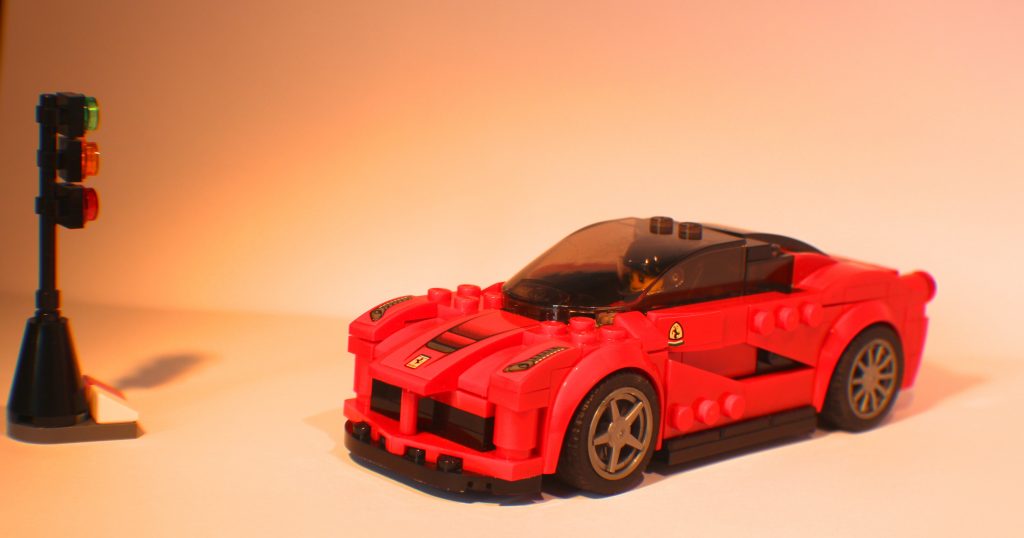 Day 19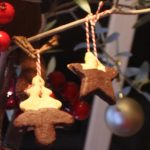 The Ngong Ping monkeys could never understand the eucalyptus diet of a koala and were delighted when the current Mrs Smith produced some Christmas, star and tree biscuits. Harley was getting bored with olive leaves so quickly grabbed a tree biscuit and was feeling vulnerable as it didn't appear to be vegetarian. Poor Harley, hope he doesn't get the belly ache.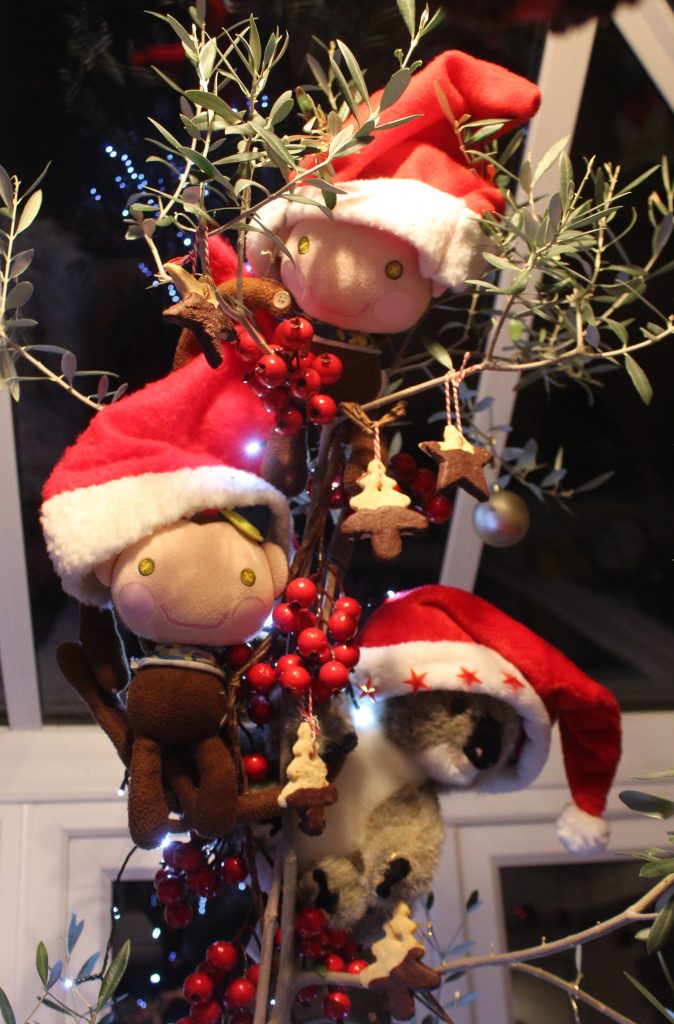 Day 18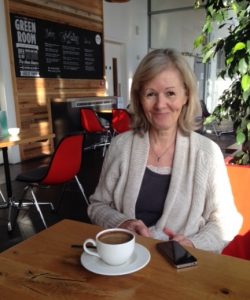 It's well known that the current Mrs Smith likes a bit of Christmas retail therapy and a coffee for her elevenses. The Marlow Theatre bar served the coffee and the Whitefriars Christmas Market provided the therapy with all sorts of trinkets and delights.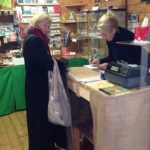 Just a week to go before the excesses of the season and common-sense has broken out in the Whitefriars Market.
Christmas can be bonkers.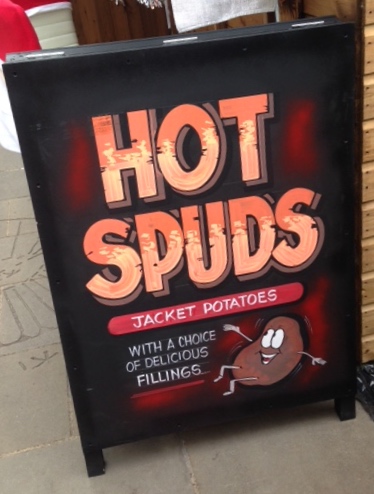 Day 17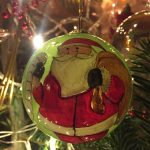 Baubles are Littlebourne.
With only a week to Christmas Eve and two little brothers are getting just that little bit excited.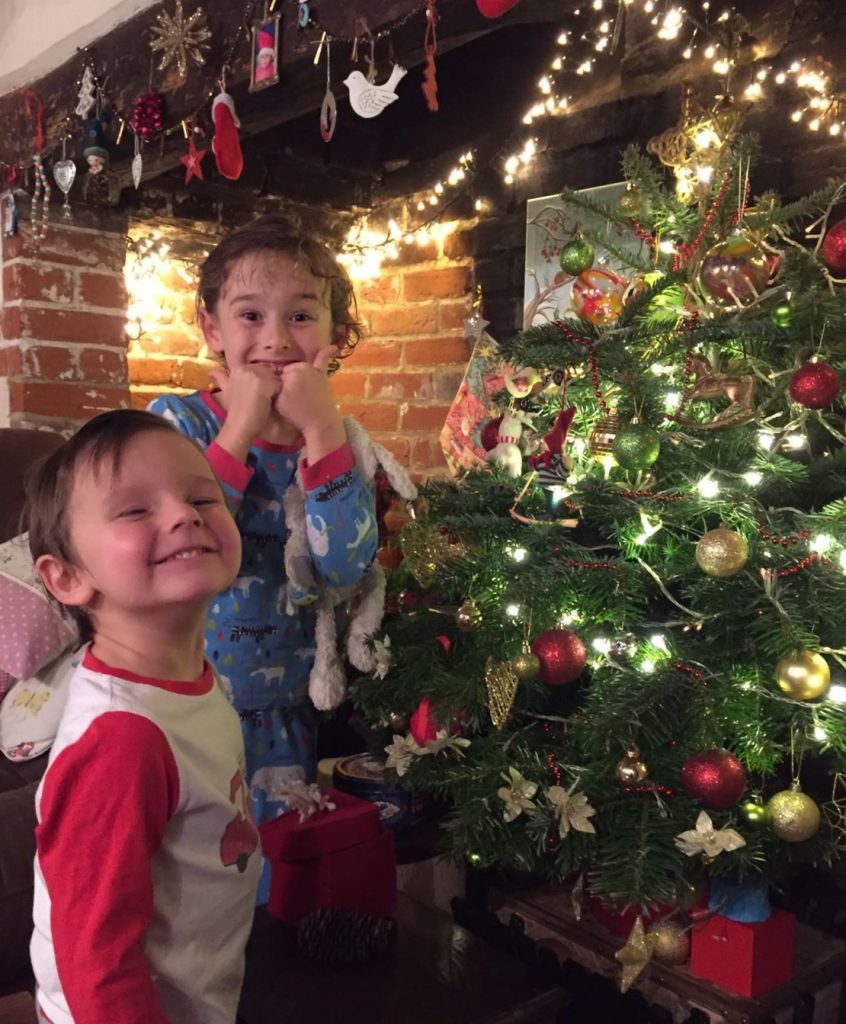 Day 16
When a mother is stressed out with Pre-Christmas, what does she need?  A cup of tea, a slice of chocolate cake or a large Pinot Grigio? No, she needs a little Sunbeam.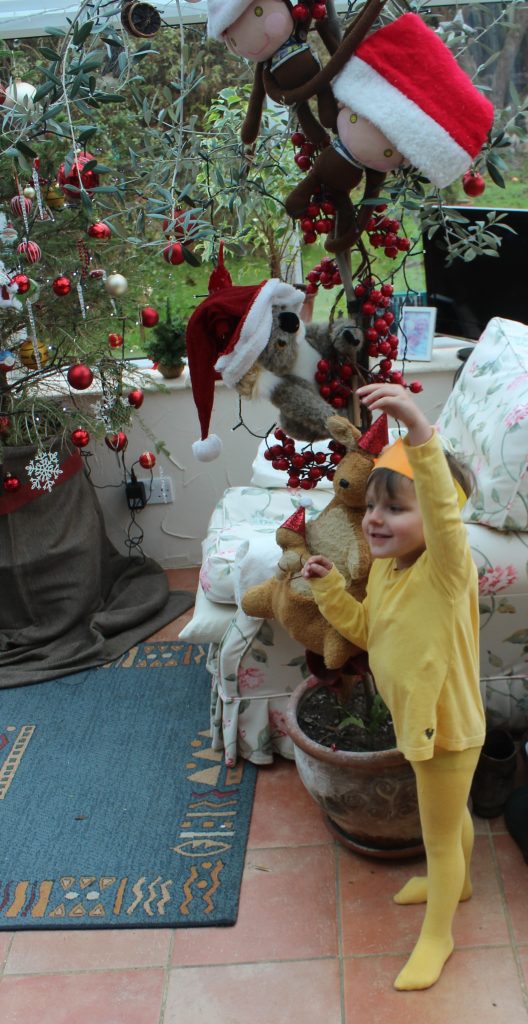 Day 15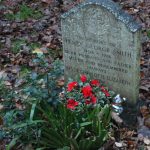 Remembering two people that loved the preparation and festiveness of Christmas with the family. Now at rest in St. Vincent's Church Yard, Littlebourne. The Church in the early evening with a warm inviting presence.
Can you spot the Church cat?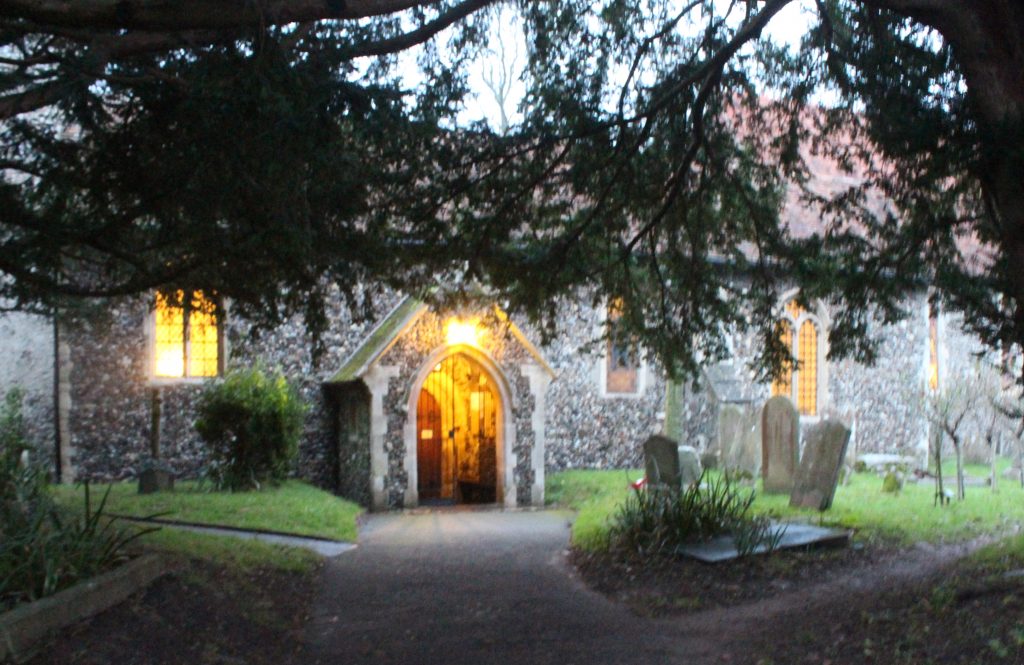 Day 14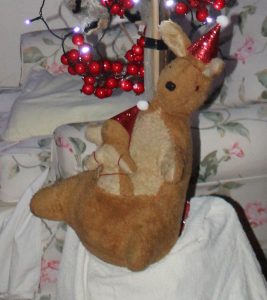 Another arrival from the antipodes at Smith Towers today, Mrs Roo and little Roo. This made Harley very happy and even the Ngong Ping monkeys were excited. Mrs Roo complained that the Gummy Wings aircraft was rough around the edges but she had found a Santa Hat under her seat.  "Thats my hat" shouted Harley, "I lost it on the flight over". Now everyone had a Santa Hat and all were happy particularly Harley as he could now get into the spirit of a Pommy Christmas.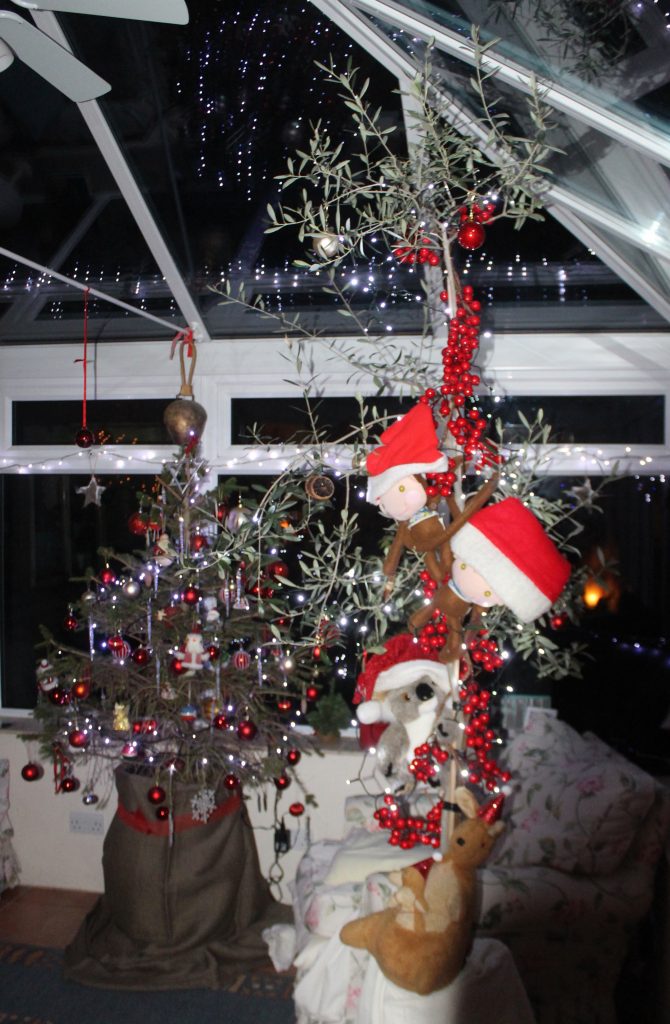 Day 13
From this: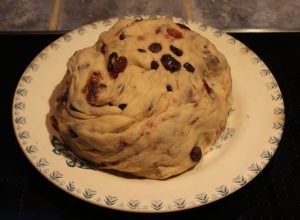 To this.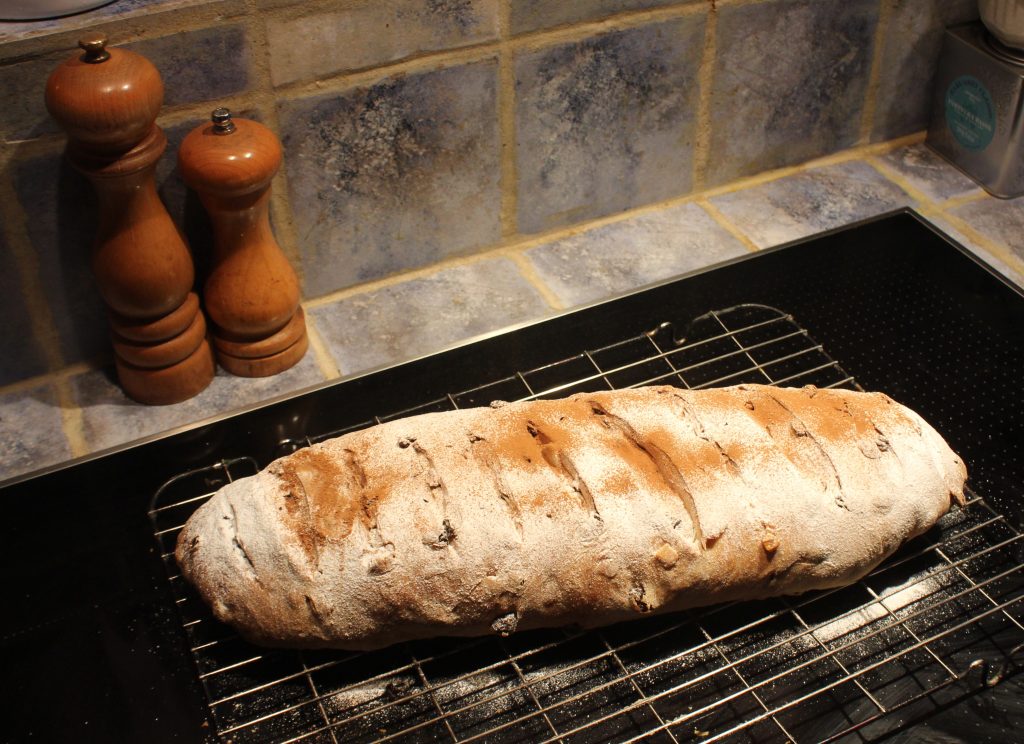 Today Smith Towers has a Stollen! – It's beginning to feel like Christmas.
Day 12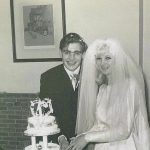 Today we pause Christmas to celebrate the Golden Wedding of Eric & Margaret Carter.  Eric & Margaret are just about the best parents, grandparents that you could ever wish for.  Eric's dad & mine both worked for the Williamson's Tannery and we both worked for the Brett Group.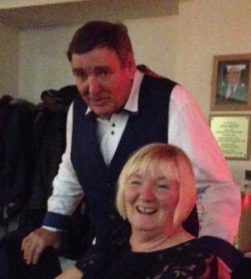 Saturday nights party at the St. Lawrence Cricket Ground was full of fun with much reminiscing amongst family & friends. Eric who has recently graduated with an Honours Degree gave a light hearted & warm address  to the delight of one & all.
Happy Anniversary Eric & Margaret continue to enjoy the journey.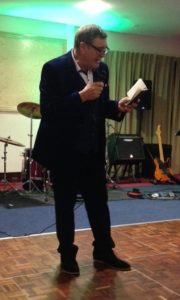 Hilary & I have been friends with them both for many years and experienced some magical times together. One special one that comes to mind is walking coast to coast along Hadrian's Wall in 1991. Eric, our son James (11 years old) and I walked the walk, Margaret & Hilary drove the car to provide support and sustenance at the appropriate stops. The seed was sown one evening over, perhaps one too many whiskeys that it would be a good idea & challenge to walk coast to coast. Commitment was made then & there, 18 months later we achieved our goal. Did we cry, might have done? There were certainly damp eyes.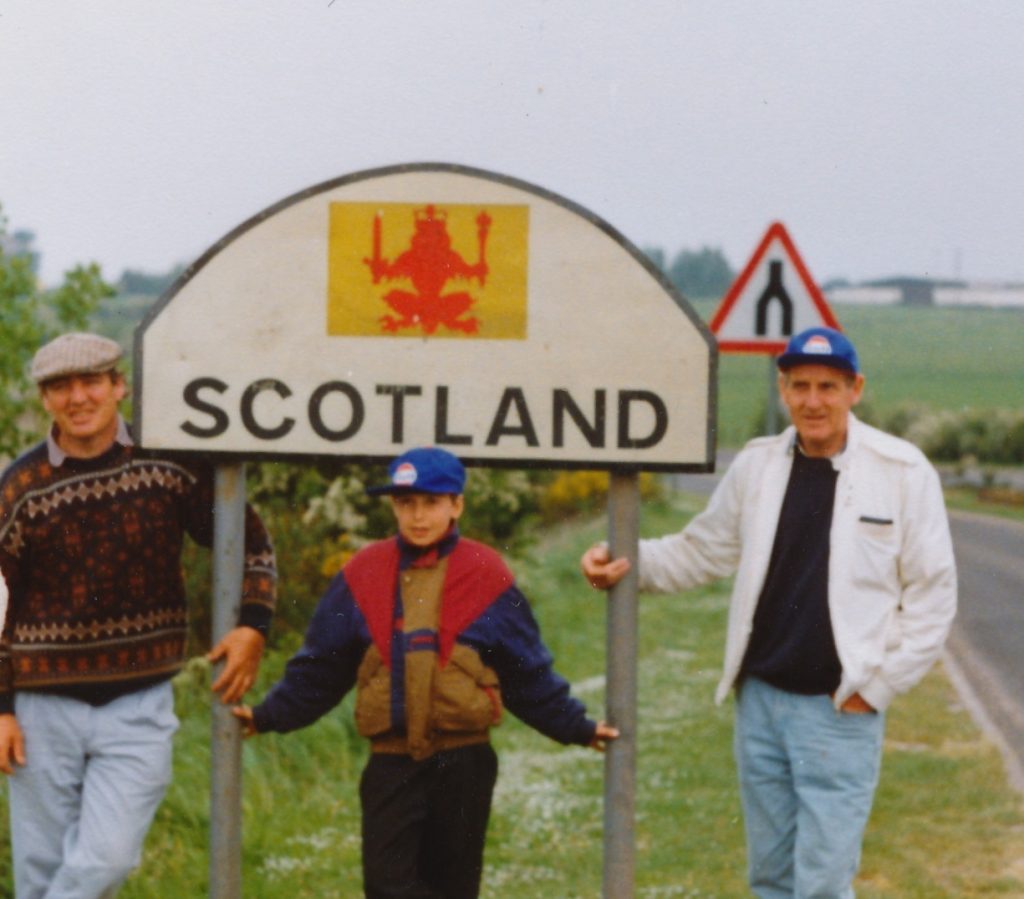 Day 11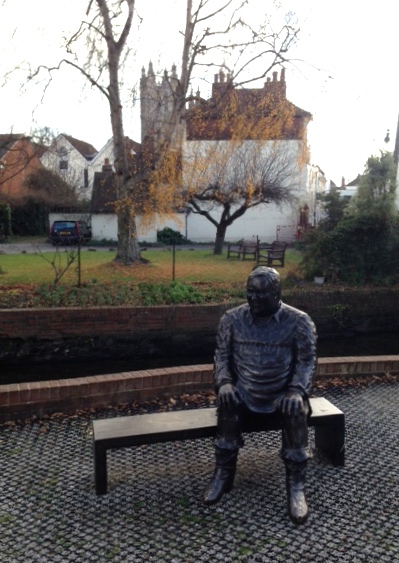 Pantomime time and Dick Whittington is in full swing at the Canterbury's Marlowe Theatre.
At this time we are reminded of the legendary Pantomime Dame, Dave Lee, funny man and a wonderful supporter of the less fortunate. Although he is no longer with us he lives on and still watches over his domaine.
"O no he's not!"
"O yes he is!"
Day 10
Yesterday we learnt where Santa shopped, today it's perhaps fitting to reflect on our shopping habits.  John Lewis, Tesco, Boots, Next etc. we all use them, however there are other outlets that would benefit from a visit. Charity shops are not all secondhand but selective shops have Fair Trade products, coffee, shampoo, etc. and Third World craft items.  All value for money therefore it's a double win.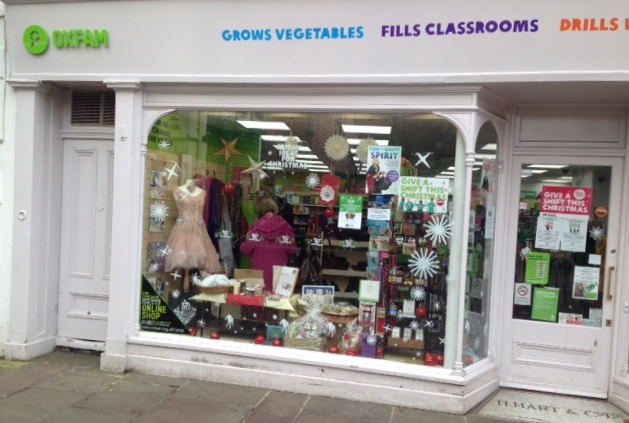 My favourite is UNICEF and their website is well worth a visit. The site is challenging with images of Syria but look inside and it's an Aladdin's  Cave of treats. One of my favourites is School in a Box.  Apart from halting the violence there are two things that will move these countries forward, clean water and education.  In our land of plenty please give a thought for the less fortunate.
Day 9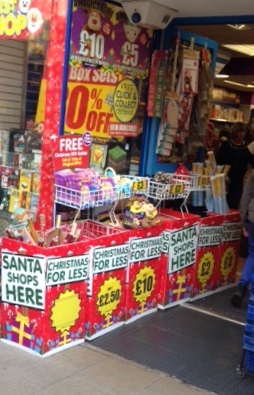 Since a little boy I've always wondered if Santa does really makes all the toys.  Like the questions where does space end or when did time begin, up-to-now, there has been no answer.  Walking along the Parade in Canterbury (thats the real one in Kent) I found the elusive answer to the question.
Perhaps like Apple, FaceBook and today the Golden Arches, Santa is moving to the UK to take advantage of Brexit.
Soft, Hard, Red White & Blue?  Or could we have a Santa Brexit? Someones Christmas' may have come all at once.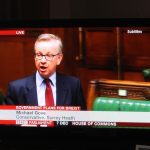 Day 8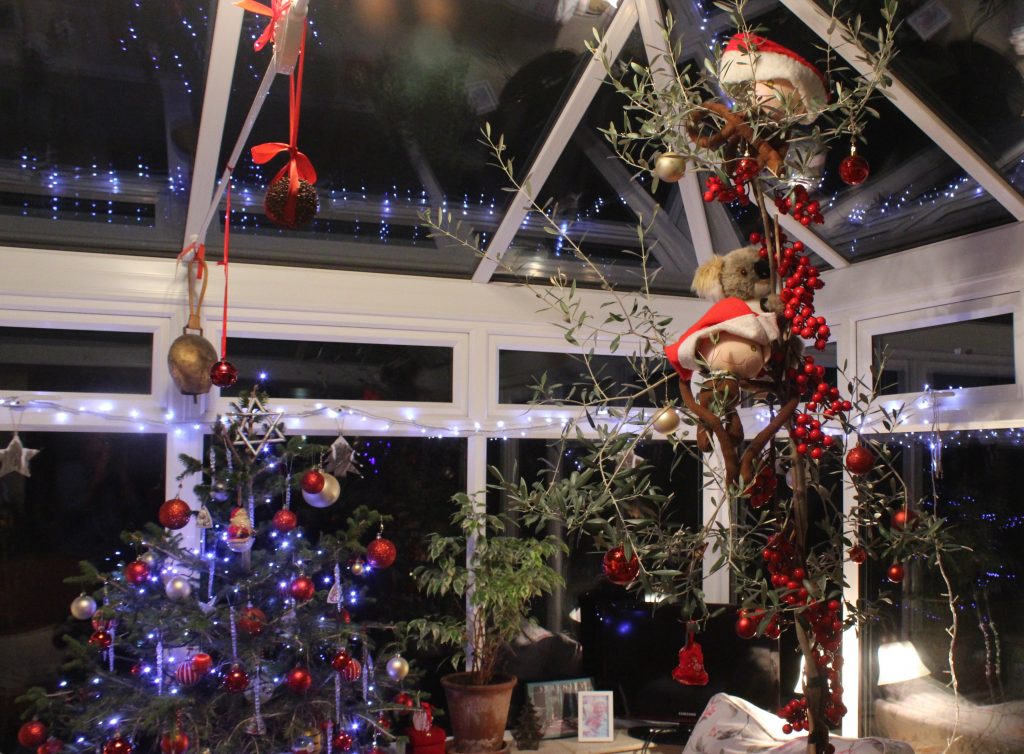 More arrivals at Smith Towers today. Harleys monkey friend from Ngong Ping Village on Lantau Island, Hong Kong, enjoyed such a good time last year decided to bring his twin brother along to enjoy the fun. Being Hong Kongers they flew Cathay Pacific, no budget airline for them as they had enjoyed a very good tourist year. They walked in and went straight up the olive tree to see Harley, both wearing Santa hats. That made Harley sad as he was still hatless and he hid in the foliage.
Poor Harley.
Day 7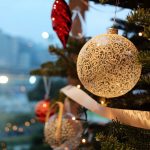 Christmas is being encompassed around the world, none more so than Hong Kong.  The new flat in Happy Valley takes on that special homely, warm Christmas feel. It's just waiting for good friends to share special moments. Cheers Boys.  Honkers is not Bonkers when you have good friends. Happy Christmas to all the Happy Valley Bar & Grill Sunday evening people.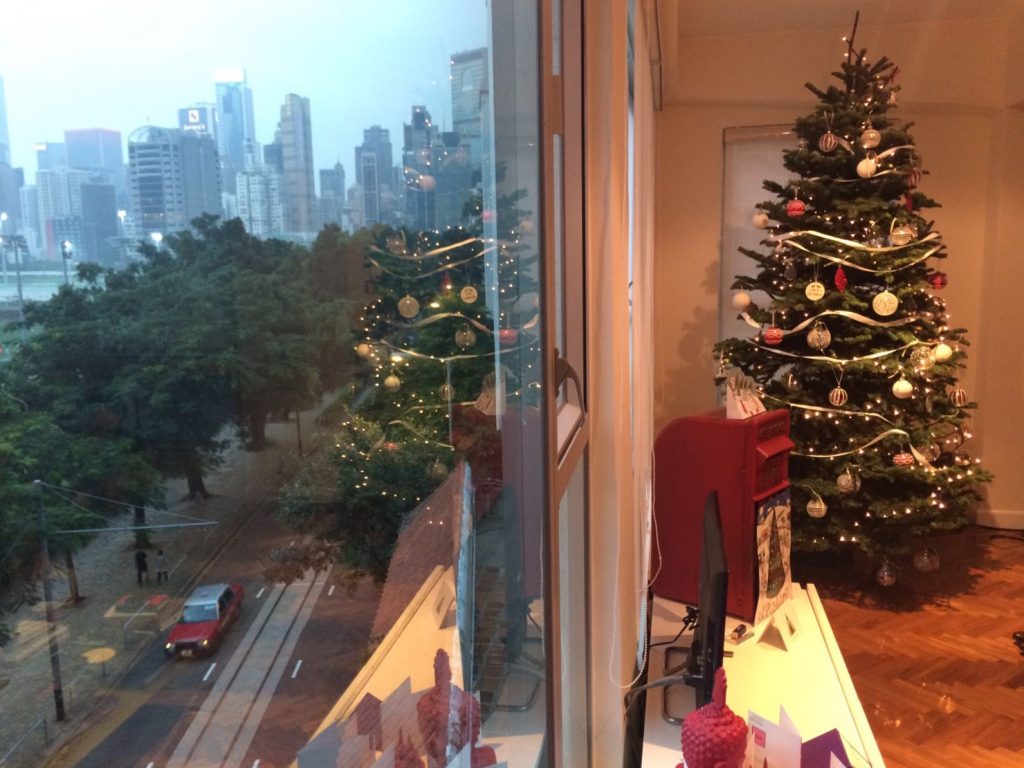 Day 6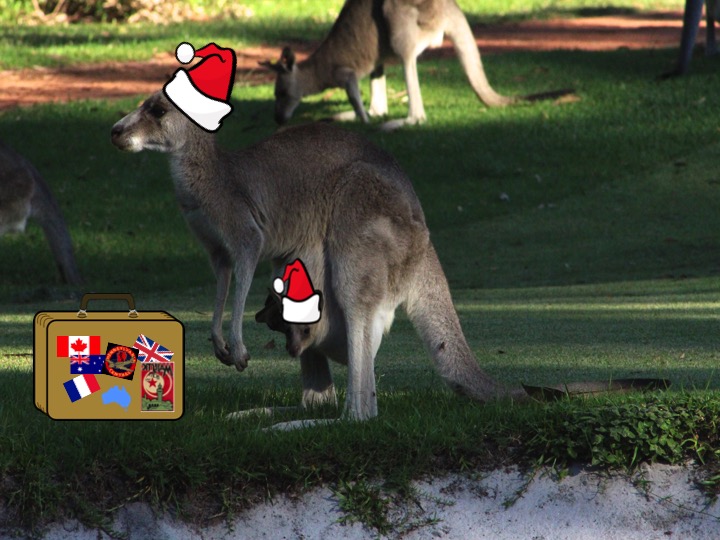 Mrs Roo and her little Joey Roo lived on a golf coarse in Nelson Bay NSW Australia and were feeling low as they were not part of the Mob and Christmas was coming so they just didn't know what to do.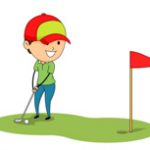 Early one morning a golfer, a chap called Tony, a very honed and accomplished sportsman, was talking about a Koala called Harley in Adelaide that had gone to Canterbury in the UK to stay at Smith Towers.  "That sounds like fun" said little Roo. Mrs Roo agreed and so it was they packed their case and off they went. They chose budget airline Gummy Wings because Mrs Roo being a teacher didn't have the greatest of funds.
Day 5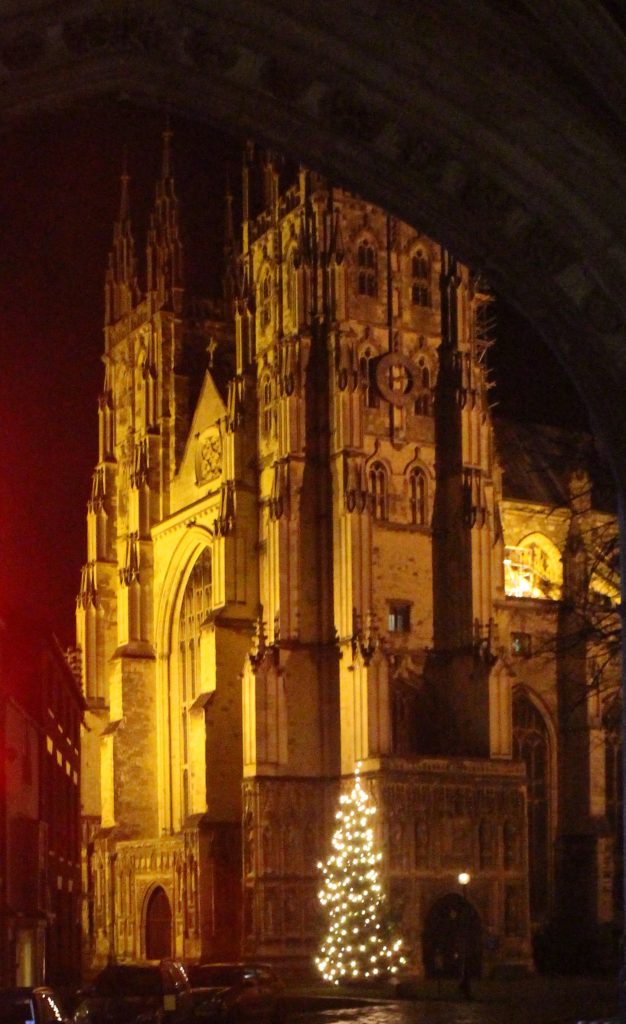 Canterbury Cathedral is all at peace.
Day 4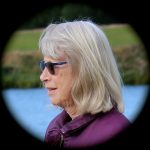 Our  correspondent, Ruthy the Galvin Girl reports from the Antipodes.
On a warm summer evening with the temperature around 30c, people in Adelaide gathered in a city church to enjoy a Celebration of Christmas. The main entertainment was provided by the Male Metropolitan Choir who sang some beautiful traditional carols, which the audience joined occasionally. In addition, there was a string quartet and an organist and accompanist. Part of this annual event is the presentation of scholarships for the following year to 3 young musicians with great potential. All in all it was an enjoyable experience.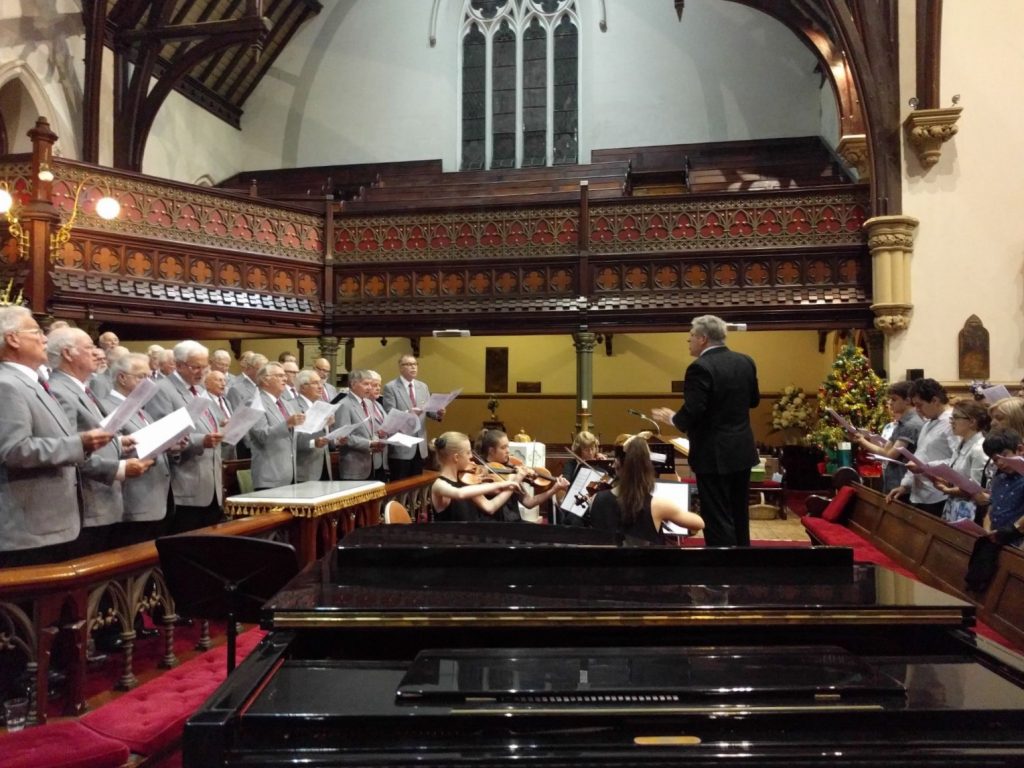 Day 3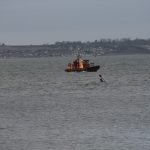 The Foreign Secretary had heard a rumour that someone who had a monopoly was about to enter the country illegally. As a Brexiteer and not believing in monopolies, unless  it involved someone educated at Eton, decided this maybe a Lib. Dem. plot and instructed the Boarder Force to send a cutter to intercept. Unfortunately he had had one too many Prosecco's and forgot they only had the one, however Amber Rudd was on the case and despatched a Kayak under the command of a certain Commander Bond. He managed to intercept the vessel at the entrance to Whitstable Harbour but saw a pretty maiden at the Lobster Shack on the Quay and like the Fair Maiden of the Loreley was drawn towards her, completely forgetting his mission. With that the vessel swept into harbour at full speed.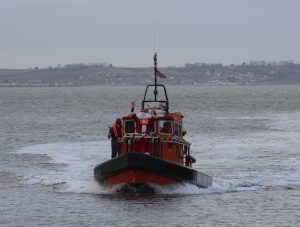 Boris was furious and called in Amber Rudd, who had now gone from amber to red. "This is not going to help Brexit" exclaimed, Boris but "Boris" said Amber "Lapland is in the EU and Santa had a job to go to".
Poor Boris.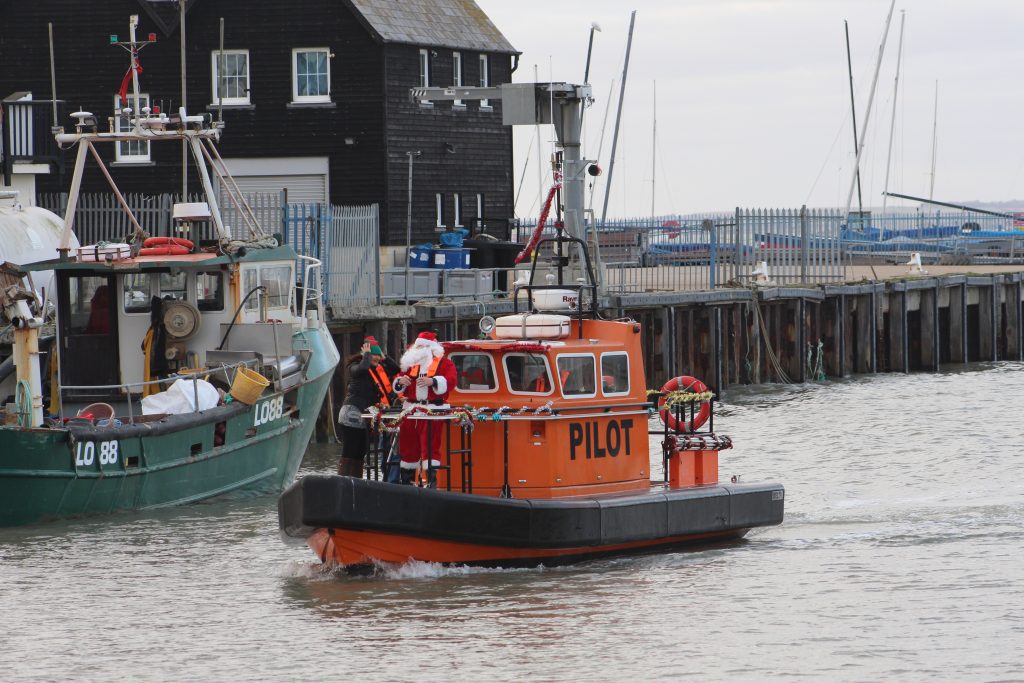 Day 2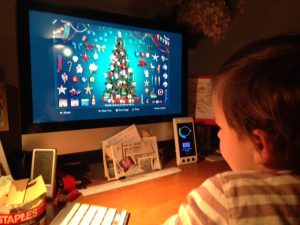 If you're beginning to struggle with all the Christmas logistics and associated workload at this early stage you're in trouble.  There is only one thing to do, decorate your Christmas Tree!  Oliver decided to heed this advice and spent some time loading his tree with everything he could lay his mouse on. Arborist still marvel the tree is still standing under the load. If you haven't got a Jacquie Lawson Advent Calendar, you should get one now it's an absolute must for the run in to Christmas and excellent therapy.
Day 1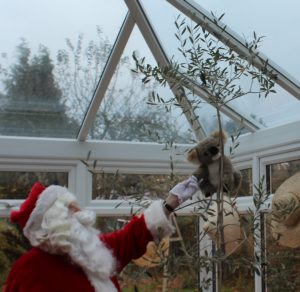 Harley arrived early from Adelaide at Smith Towers so he could enjoy the run-in to Christmas but instead of flying Cathy Pacific chose the budget airline, Gummy Wings, who lost his luggage. He wasn't too bothered but was very disappointed he didn't have his Santa Hat.  Santa heard of his predicament and paid a visit, unfortunately Santa was all out of hats and suggested if Gummy Wings didn't find his luggage to either contact Simon Calder or try and get on the 1-Show.
He's truly up an Olive Tree without a hat.
Poor Harley.