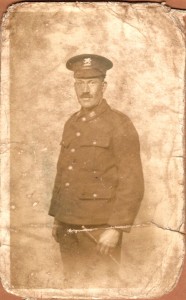 This Smith family originated in West Kent and working on the land often in tied cottages and moving farm by farm eventually ended up at Salisbury Terrace in Haine near to the village of Manston in Kent.  Frank and Edith Smith had seven children, three daughters and four sons.  Frank Smith enlisted in 1914 and joined the The East Kent Regiment, affectionally known as the Buffs.  He was injured and returned home to convalesce and eventually returned to France on secondary duties as he was not fit enough for the frontline.  While he was home Edith, his wife became pregnant with their last child, Leslie. Unfortunately, as was often the case Frank was never to see their last borne as he was, subsequently deemed fit enough to return to the frontline but was sadly killed in action during the last big German push on the 21st March 1918.  Edith was left to bring up seven children single handed on a very hit and miss War Widow's Pension.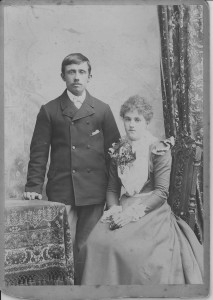 Our Barrett family originated from Luton, famous for its hats, Bedford Trucks & Vauxhall Cars, & was a very long way from the sea.  The eldest son left home to go to sea and became a trawler-man at Ramsgate in Kent.  His mother then decided to move herself and her other boys to Ramsgate also, so she could look after all her boys.  Herbert William Barrett, when he became of age also joined the fishing fleet achieving his Second Mate Certificate in 1895 at the age of 21.  He enrolled in the Royal Navy Volunteer Reserve and was appointed to the Dover Patrol.  Unfortunately his ship became a casualty and he was severely injured and not expected to live but was nursed at the Royal Marines Infirmary in Deal and although he survived was permanently invalided.   His wife Elizabeth sadly passed away in 1918 as a result of the devastating influenza pandemic of that year leaving him to bring up two sons and a daughter on a meagre disablement pension.
This website is a tribute to Edith and Herbert for their task, following bereavement of bringing up their respective families singlehanded and to Frank and Elizabeth who were taken from their families far too soon.