Monday 19th
At last we can report the Hong Kong puzzle has been completed, well done to the Current Mrs Smith ably assisted by Louise and Erin proving that woman power will overcome. This breaks new ground at Smith Towers having been started 3 years ago at Twymans Lodge, abandoned and then restarted on Boxing Day 2017 it has taken 81 days. I guess this wouldn't work on the Generation Game.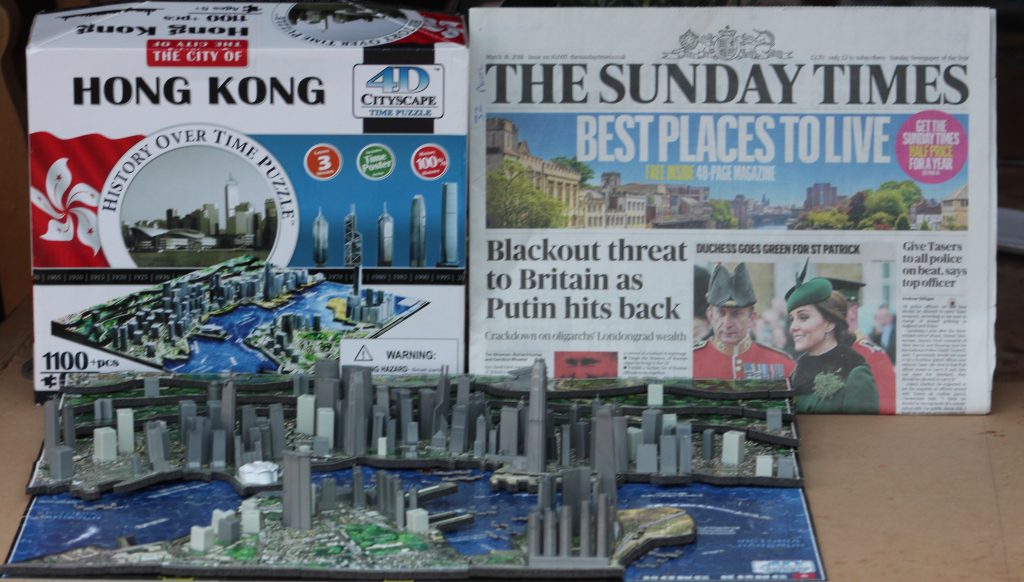 Sunday 18th
Allourlives Sunday Quiz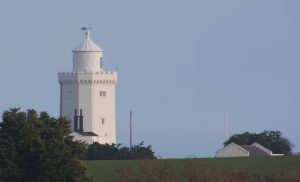 Where is this light that would have helped many a sailor and saved many a ship from coming to grief on our Kent shore?
Last weeks quiz was the Lifeguard Hut Tankerton Slopes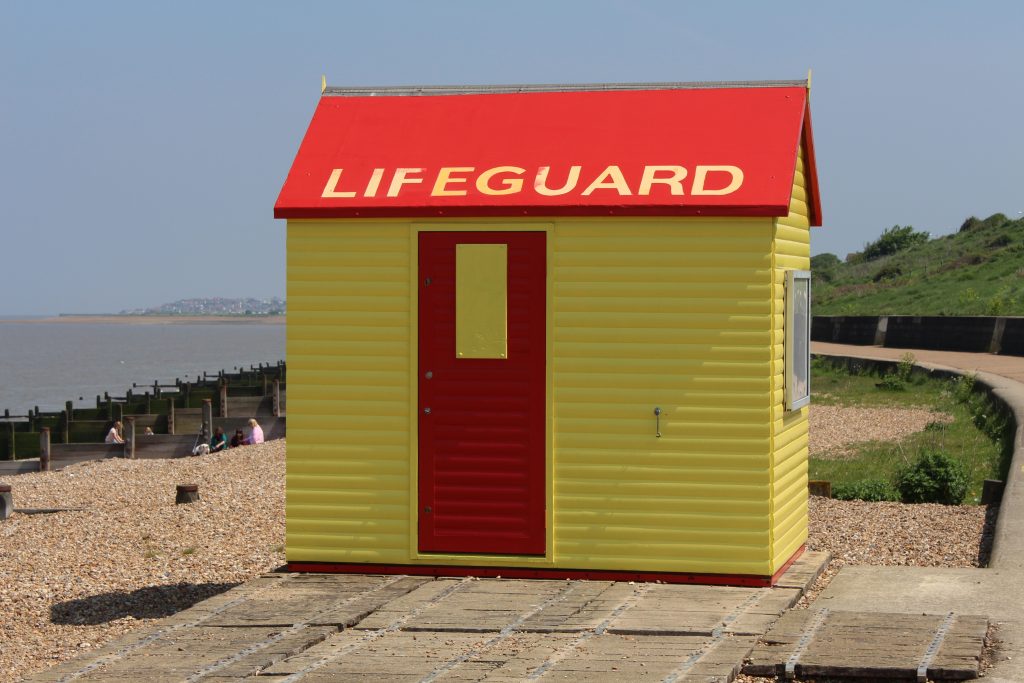 Saturday 17th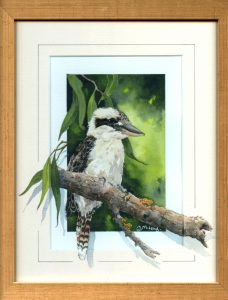 No sooner has the Adelaide Festival faded into memory the suburb of Blackwood opens its doors to a local artist exhibition. Both Galvin Girls were there, Ruthy capturing the moment with her trusty Brownie, while supporting her big little sister, Jill who was exhibiting. Jill is a very accomplished artist particularly specialising in flora, fungi, lichen and birds with exquisite fine detail.
The Galvin Girls arrived in Australia in 1958 as £10 Poms and after several weeks of pampering on the P & O Stratheden were dumped into the Bradfield Park Migrant Hostel in Sydney. Basic doesn't cover the half of it as it was a Nissen Hut with little or no privacy and only a wood stove to cook on. However, they all made it through and from such beginnings great friendships can and do grow. This was proven with Jill's friend Ann who she befriended at that place some 60 years ago who had come over from Sydney to support her. I love a good backstory, thanks to Ruthy for providing the details.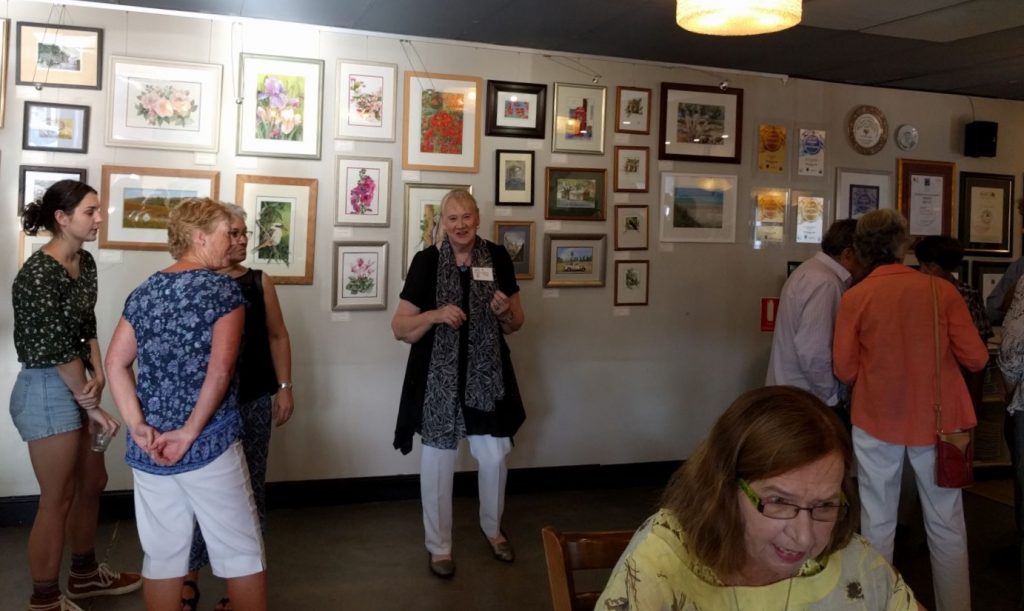 Friday 16th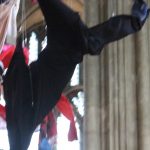 Suspended – Arabella Dorman
Yesterday and the Eric and Colin Jaunt stayed local but what a moving morning it proved to be. The venue was Canterbury Cathedral and Eric had arranged for us to park the car in the precincts so we had easy access.
Having read about the Arabella Dorman Sculpture, 'Suspended' it didn't prepare me for the statement it makes and the affect it would have on me. Eric saw in it people fleeing I saw people drowning and I suppose it was both. With clothes picked up off the shore on the Greek island of Lesbos and from the Jungle camp in Calais it gave an insight into the magnitude of the problem and of human suffering.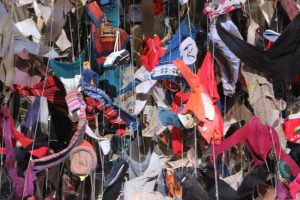 Seven years on and the Syrian war is perhaps coming to an end but in horrific circumstances, man's ability to inflict such carnage on his fellow man, appals. Mixed up with the people fleeing such horrors from Syria and elsewhere are people being trafficked (a subject I will return to at a later date) into slavery into this country 185 years after being abolished in the UK. As Kent is part of this highway it is fitting for 'Suspended' being displayed in our Cathedral. I would encourage everyone to visit the Cathedral and reflect on its message and the wider picture.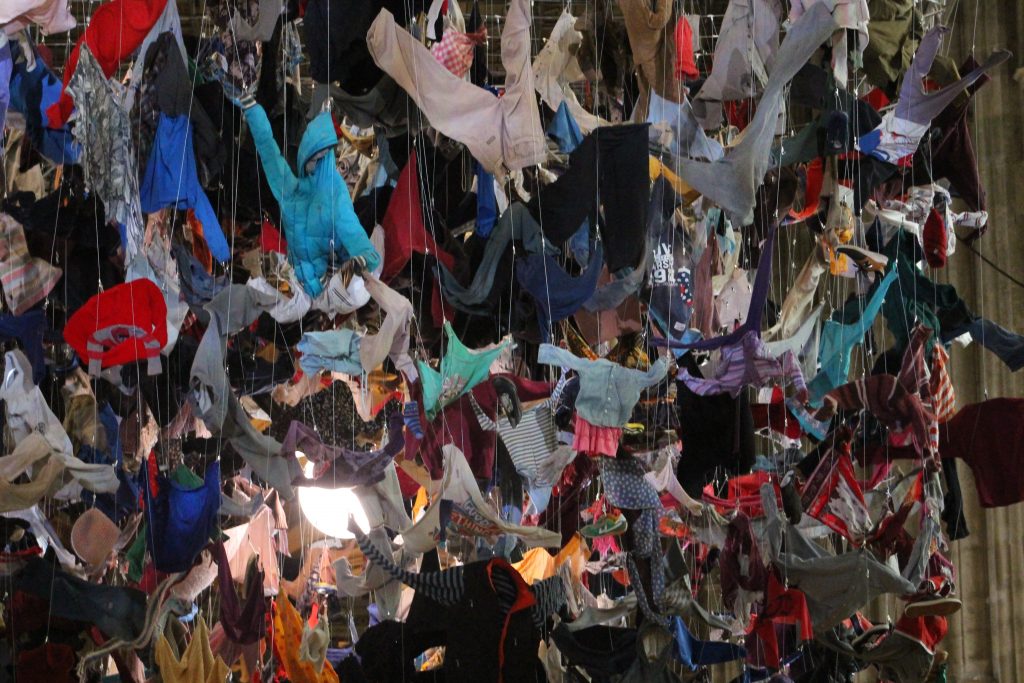 Thursday 15th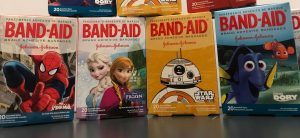 I've had plenty to say about large pharmaceutical companies doing more in respect research into certain diseases and perhaps pooling research/resources. It was therefore interesting to see Johnson and Johnson with a children focused Band Aid product, not  particularly important in its self but wonderful to help take the trauma out of trauma for little ones.
Every journey starts with a single step.
Wednesday 14th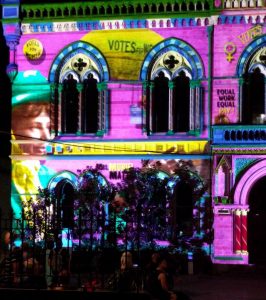 Adelaide City of Festivals certainly lived up to its name culminating with its festival of light. Ruthy was out with her camera and perhaps captured the moment with this image of Muriel Matters. Recently some of my blogs have been concern and support for women therefore it was poignant that the image records women's struggle with suffrage 100 years on from women getting the vote on the same terms as men here and links Australia and Great Britain in that quest. Click on the link to read about Muriel Matters
Tuesday 13th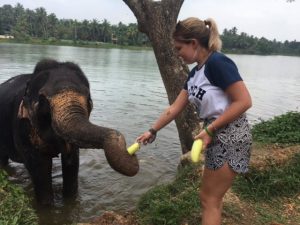 It's all bananas in Shri Lanka, which if you're a little elephant and you also have a bit of water to splash about in, it's most probably as much as you want. Family member, Georgia currently touring stopped off to lend a hand at an Elephant Sanctuary. Well done Georgia all credit to you, travelling but making a difference, your stature can only grow and grow. Thanks for sharing your experiences enabling us to travel with you, I look forward to further travels with you, albeit virtual.
Monday 12th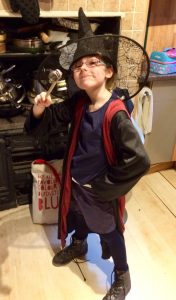 Last week after snow delay, schools caught up with World Book Day, which had children dressing up as their favourite characters. Two of the Smith Towers grandchildren entered into the spirit of the event. One dressed as Hermione Granger and the other rose from the ashes as the Phoenix both from Harry Potter, why is J K Rowling so popular? Must be because they're good and children identify with the story line. It was once said that television would destroy the written word, I don't think so.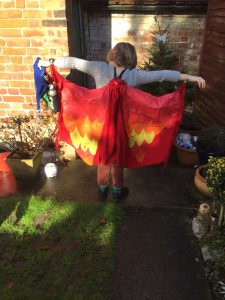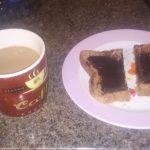 Mothers day footnote: Eldest grandson was up bright and early and made his mum breakfast in bed unfortunately he had forgotten his mum was on an early shift and was already at work. Maximum points for effort, nil points for delivery.
Sunday 11th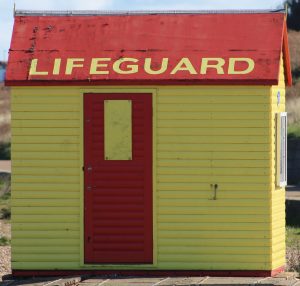 Allourlives Sunday Quiz
Baywatch it's not but where will you find this hut on a Kent shore?
To help you on your way in the 60s and 70s you might have spotted a pirate from this shore.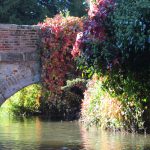 Last weeks quiz was the Greyfriars Bridge, which leads to the Franciscans Gardens and Greyfriars Chapel in Canterbury. If you have some spare time it's well worth a visit.
Saturday 10th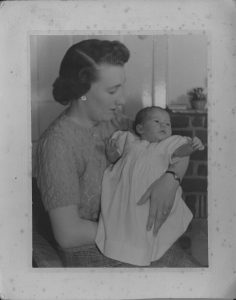 Hard on the heels of International Woman's Day is Mothering Sunday and it's more than just about buying a present, it's a time to nurture, cherish and respect all women. We all know and agree about equality but there's a bigger picture and one that all men should understand and appreciate because being male in comparison is relatively easy.
A woman has a menstrual cycle, which comes with monthly hormone changes, some will struggle each month others not
A woman during the nine months of pregnancy will experience a massive hormone change, which can lead to some debilitating conditions
A woman has to carry that baby from a foetus through to a complete little person
A woman gives birth, which having witnessed it is a complete miracle but oh what an effort is required to allow baby to make the journey
A woman, having gone through the massive hormone change during pregnancy has to cope with the swing back the other way
A woman is expected to breast feed and although a man can help with a bottle, mum has to take the lions share and keep her energy levels up
A woman can suffer with post natal depression, which can in extreme cases be serious
A woman in a short time after giving birth will be involved, most probably, with getting siblings to and from school
A woman traditionally was the homemaker, juggling many balls to manage a home. Perhaps more evenly shared today? As a working mum? Well, that could deliver another 10 bullet points.
A woman then settles down to normal life and blow me down, along comes the menopause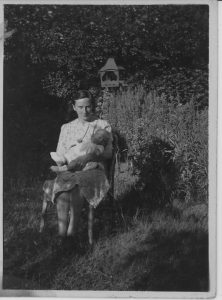 My message to all husbands/partners is take in and digest my 10 points of womanhood and get on-board.
Get on-board and understand the difficulties throughout pregnancy.
Get on-board and put to one side the football match, the TV programme or a pint down the pub with your mates. Be there to give your support

Get on-board

and be prepared to take some flak if mum has post natal depression. Help her through a difficult time
Get on-board with the children they're your children also
Get on-board and show her your love
Get on-board and show you care and understand
Get on-board and show her your respect
Get on-board and remember it's a partnership

Get on-board

and do the supermarket shopping
Get on-board and hold her hand and remember why you fell in love in the first place
My message to everyone else is give MUM a lovely day and make her year special.
Friday 9th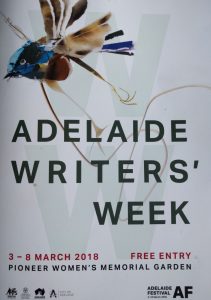 As the Adelaide the City of Festivals Writers Week, draws to a close our Antipodean Correspondent, Ruthy brings us up-to-date with the latest news and spots someone who was hopping mad.
Earlier in the week Barbara Kingsolver was a favourite and perhaps quite profound says Ruthy with her comment on the novel in general; "people write novels to ask the big question and to look for answers in their own individual ways". She has published some 14 books but her book 'Flight Behaviour' is quite special set in a run down Appalachian Farm and encompassing the migration of the Orange Monarch Butterfly woven into a complex human story. It's well worth seeking out, as it's a good read.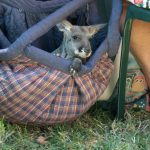 The festival once again was a complete success however one little Bush Baby, Joey was disappointed as he was only there to see his favourite author Susan Hall. When he realised she wasn't on any list decided it was time to just chill out and waited for Mrs Roo to ring ding-ding-ding-ding.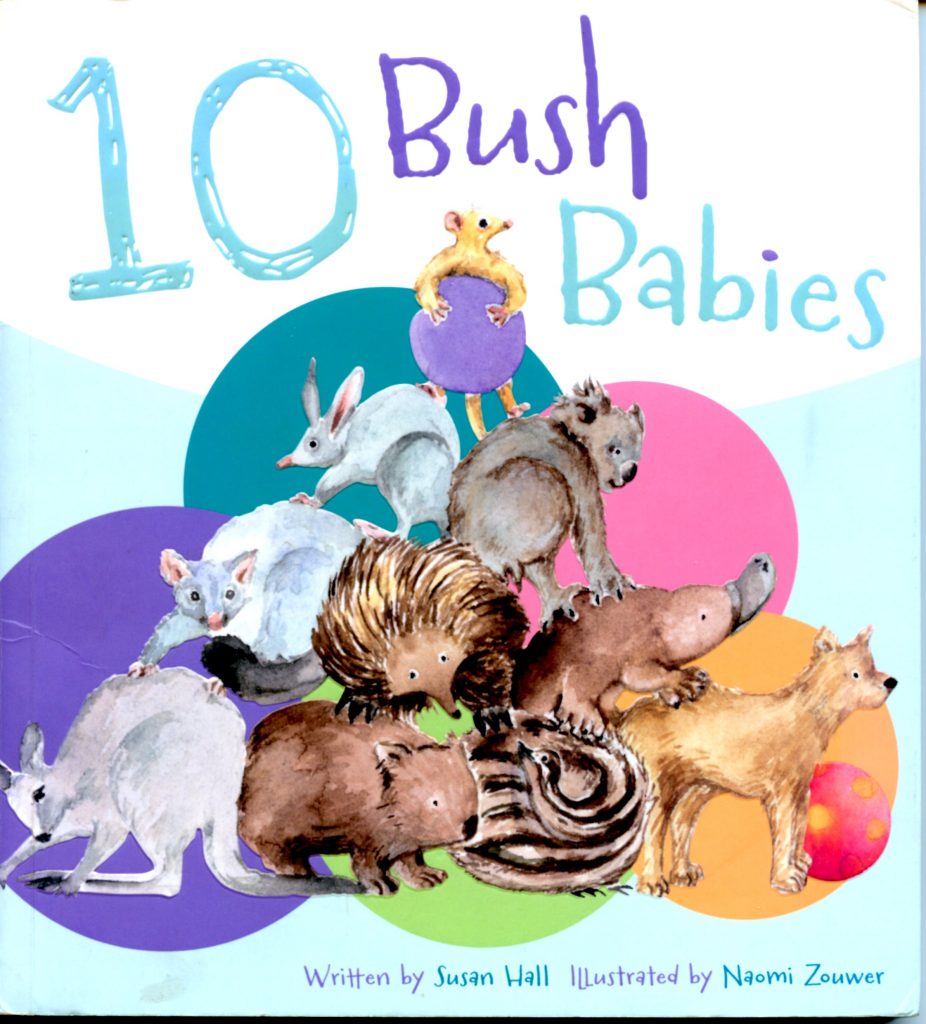 Thursday 8th
4 Years ago today a Boeing 777, Malaysian Flight MH 370 went missing on a flight from Kuala Lumpur to Beijing with 239 souls on board. Despite the long and extensive search operation neither aircraft nor those on-board have been found. Odd bits and pieces of wreckage have washed up on East African shores but nothing significant to solve the mystery of its disappearance.
That day we were due to fly from Hong Kong to Adelaide in Australia, which concentrated our minds. 15 days later walking along Mrs Macquarie's Road in Sydney's Botanic Gardens we witnessed the departure of Ocean Shield as she joined the search.
One day I'm sure the aircraft will be found enabling all the questions to be answered, in the meantime may all 239 lost souls Rest in Peace.
Wednesday 7th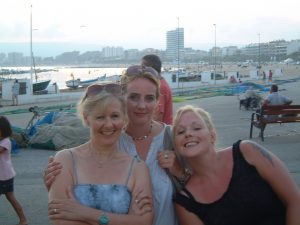 Tomorrow 8th March is International Woman's Day
I have worked with women all my life and some of them have been vey special, but like all mankind each and everyone was different. Of all the women I've worked with I couldn't say which one was best because different eras required different skills. Certainly women should be treated equally and not taken advantage of or abused, nor should any male of the species for that matter. I thought about posing the question of who are/were the most important women and realised it's a question with no definitive answer or a list that would be just too long.
So tomorrow lets celebrate all women and particularly take care of the young. Not getting equal pay for equal work is just plain wrong. For the wealthy and powerful to take advantage of any person is unacceptable. With FGM and the mutilation of young women we are dealing with a heinous crime, strangely, often carried out by women. Cutting young girls for no clinical/medical reason, often in unsterile environments is as unnecessary as it is wicked. The slogans ♯PressforProgress, ♯MeToo and ♯TimesUp are all good but perhaps we should also focus on ♯EndFGM.  
In our celebrations of women we might just give a boost to that one thing that will eventually eradicate all malpractices: –
education, education, education!
Tuesday 6th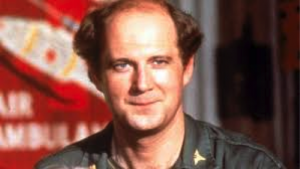 M*A*S*H 4077 – 1972 to 1983
The current Mrs Smith and I are avid followers of M*A*S*H and have just started round again with Series 1. Made in the time of the Vietnam War it was a reflection of it but set in the Korean War period. Its message is equally relevant today.
On Saturday (3rd March) Actor David Ogden Stiers died at the age of 75 after a long fight with Bladder Cancer. He played Charles Emerson Winchester the lll replacing Larry Linville (Frank Burns) in the series. Winchester was everything Burns was not, a role he made his own.
M*A*S*H lives on forever or so it would seem as will Charles Emerson Winchester the lll. Rest in peace David Ogden Stiers.
Monday 5th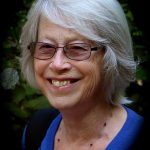 Adelaide the City of Festivals and it's Writers Week, fortunately our Antipodean Correspondent, Ruthy is there to bring us the latest news on good reading.
Three authors impressed her amongst others at the festival, Alexander Maksik and his novel Shelter in Place, Samanta Schweblin with Fever Dream, click on their names for more information.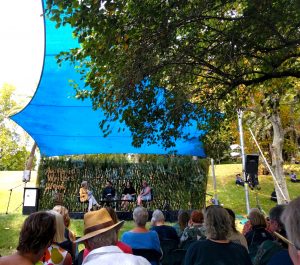 The one that particularly interested me was Australian Journalist John Lyons, who had covered the Middle East and the Israel/Palestine issue for a number of years. His memoir, Balcony Over Jerusalem, deals with the difficulty of reporting the truth as you see it and then your editor/s and others suppressing your despatches. Nothing like a free press or is there no free press?
Recently on this site talking about the Vietnam War and Julian Pettifer and Walter Cronkite upsetting the USA Military with the truth and the latter helping to change a Presidential candidate by his broadcasts. It does however prove you can't bury the truth forever in a free society.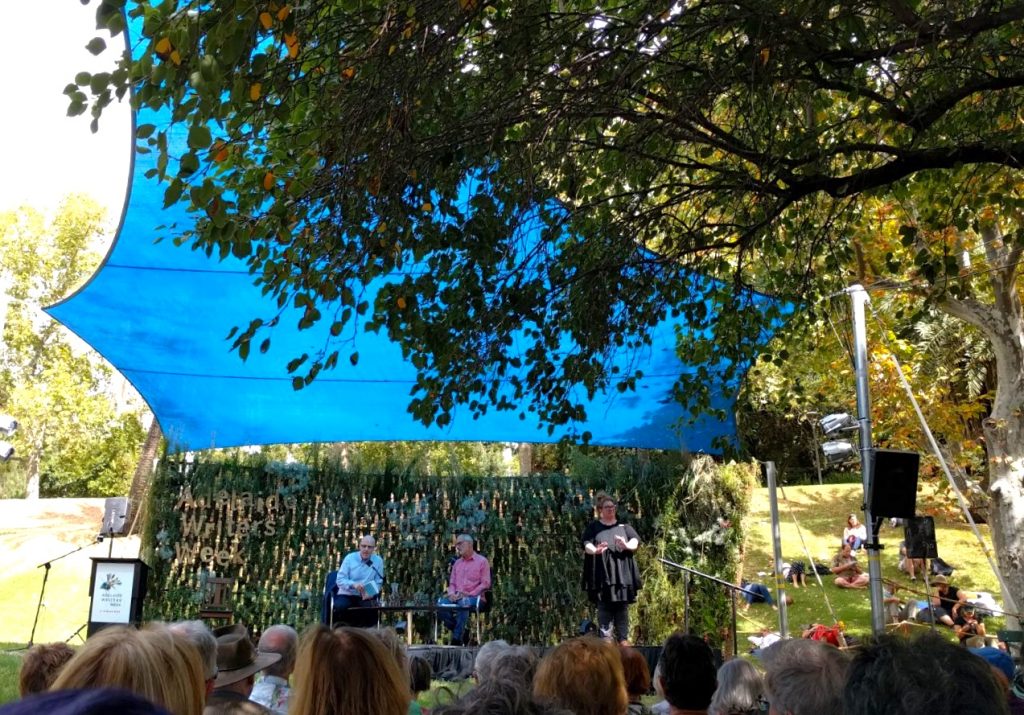 Sunday 4th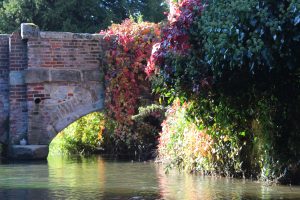 Allourlives Sunday Quiz
Where is this tranquil urban spot in Kent?
To help you on your way it might lead you to St Francis of Assisi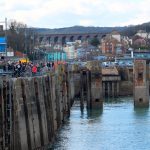 The answer to last Sundays quiz was Folkestone Harbour. It showed the remnants of the old vehicle ferry berth and the give away was the railway viaduct in the background. The quay is now being regenerated and is becoming a vibrant culture of leisure, with live music and various restaurants and bars to enjoy.
Saturday 3rd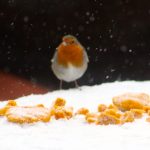 The Beast from the East Part lV
Now the Current Mrs Smith is renown for her baking but even she can have the occasional failure. Gluten Free Biscuits made with sweet potatoes appear to have a very short shelf life. Her loss is these two little guys' gain.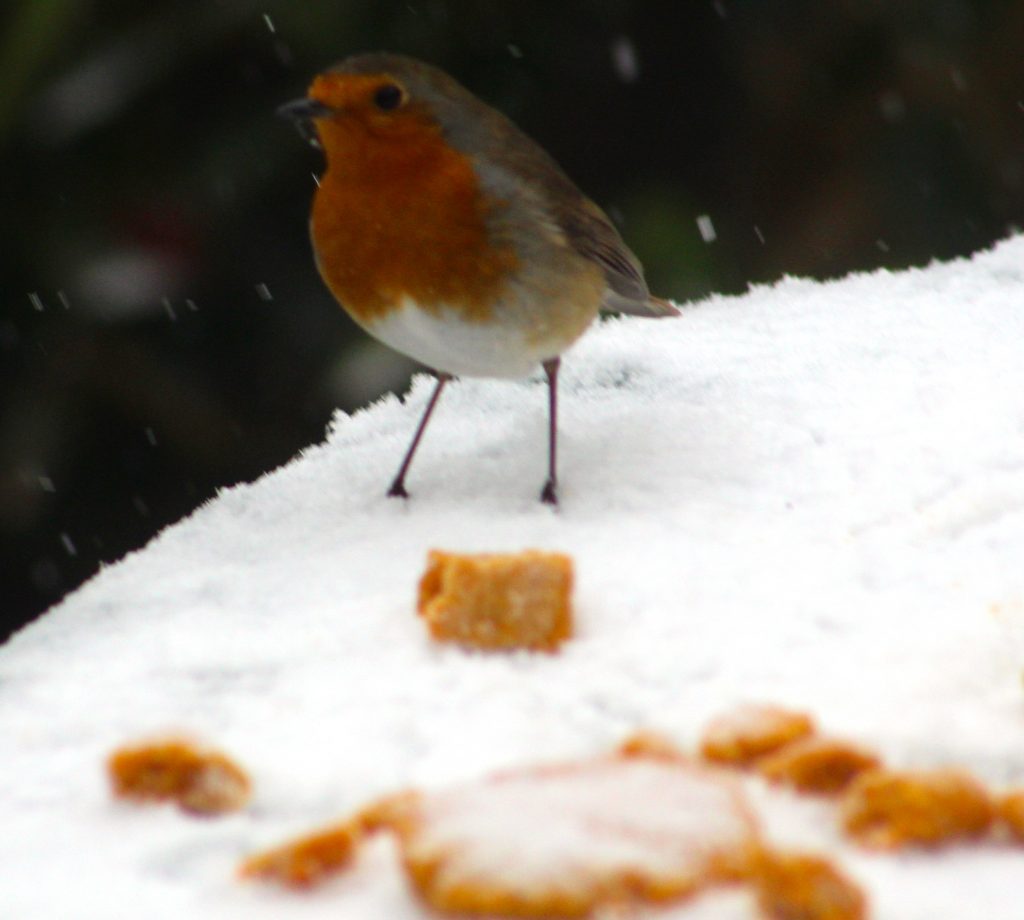 Friday 2nd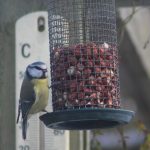 The Beast from the East Part lll
So what do you do when you can't go on your weekly jaunt?
Firstly you get The Current Mrs Smith to top up all the bird feeders, before she makes coffee for elevenses'. Then sit back with camera in hand and snap away at the visitors.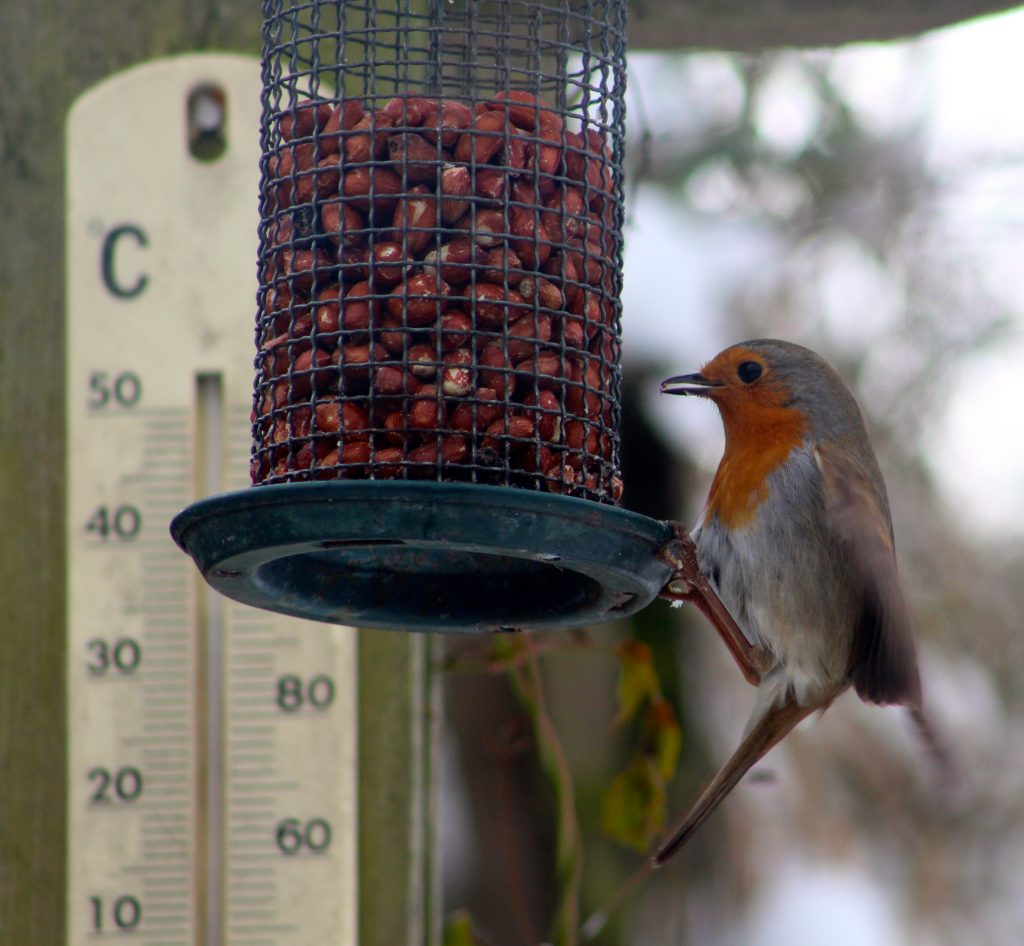 Thursday 1st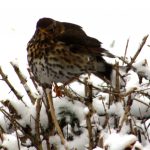 The Beast from the East and now Storm Emma
As February roared out so March continues to tighten its grip with severe weather warnings and Storm Emma lurking perilously close by.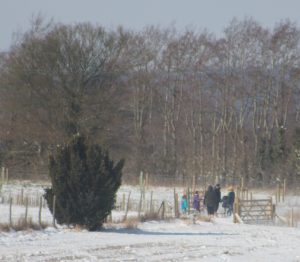 Yesterday the children had a snow day and we enjoyed a beautiful sunset, so there were some winners. If you were a Song Thrush you might have a different view.
No Eric and Colin jaunt today, have taken the advice and put a log on the fire and are observing from the inside.